Florence Private Transfers
Travel in style in your own private vehicle to your destination in comfort and safety. Most vehicles used for transfers are Mercedes E-class, V-class & 16 seat minibuses. We have sedans for 1-2 guests, compact minivans for 3-5 guests and minivans for 6-7 guests for each of the locations below.  We are happy to suggest fun stops for sightseeing during transfers with further destinations.
Florence Private Transfers with Sightseeing
Florence to Rome (6-7 hours including sightseeing time)
Take advantage of a private transfer with driver to Rome to stop along the way for sightseeing, with or without an
expert guide. Choose between three routings below.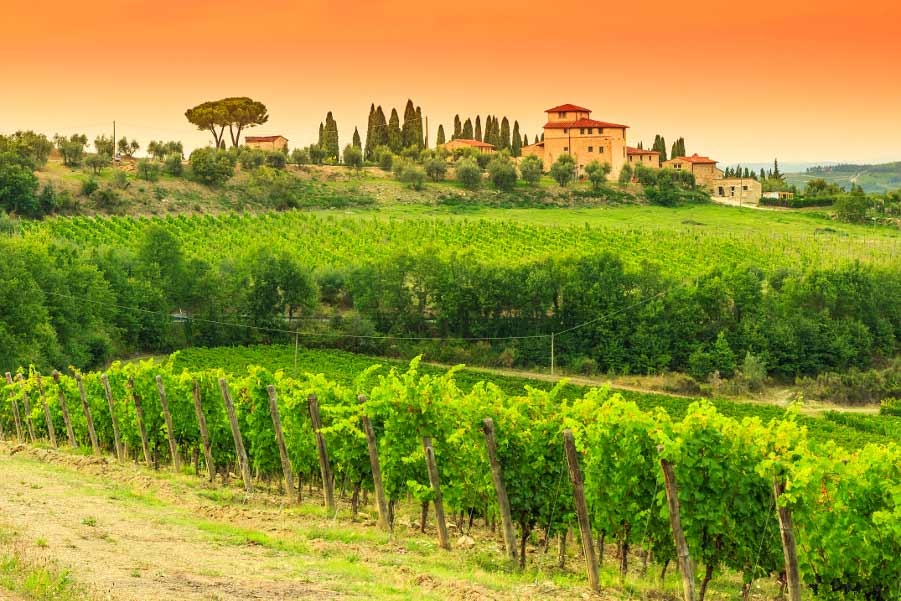 Option A: Chianti Sightseeing
Stop in two of the quaint towns of Chianti for sightseeing on your own, along with a local vineyard for a wine tasting tour. Wine tasting fees of approximately € 10-€ 16 and lunch to be paid directly. For true Wine Enthusiasts we can reserve a special Wine Tasting Lunch at the Antinori vineyards payable directly at € 180 per person.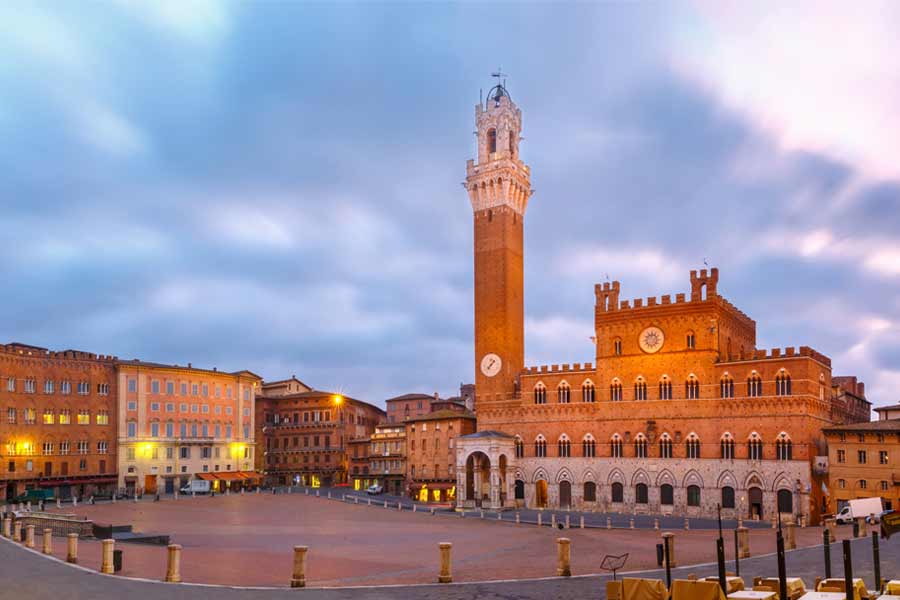 Option B: Siena Sightseeing
Explore the Tuscan town of Siena on your own, or add an expert guide for a 2-hour walking tour that will encompass the major monuments of this historical city. Visit the historic Piazza del Campo where the famous horserace "Il Palio" takes place every summer and brightens the city's streets with colorful flags and lively festivities organized by each of the city's competing neighborhoods.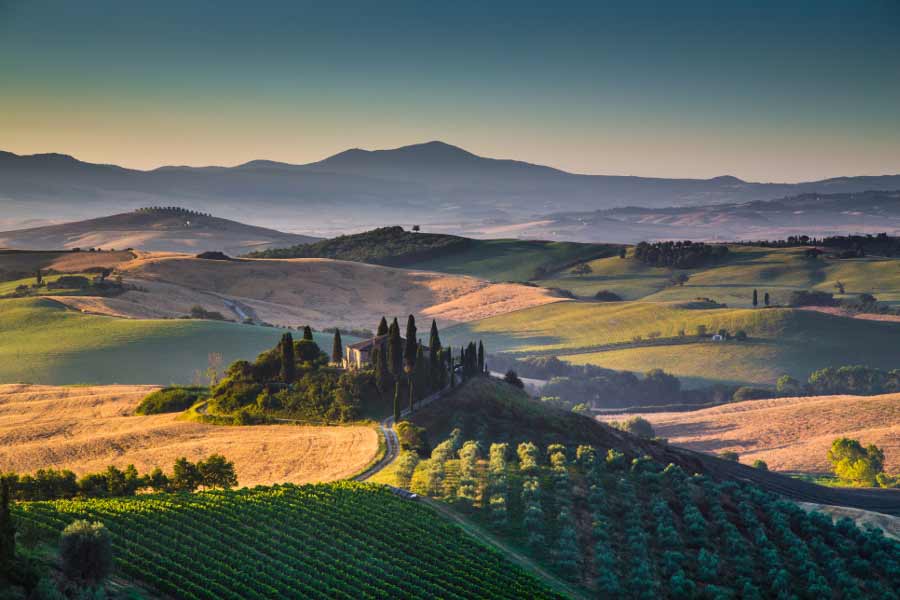 Option C: Southern Tuscany Sightseeing
Visit the towns of Montepulciano and Pienza on your own, with free time for lunch, or add one of the options below to include an expert guide and 3-hour tour to experience an olive oil tasting at an olive mill, a winery visit or stop at a pecorino cheese maker for a tour and tasting:
Montepulciano, a Winery and an Olive Oil Mill Tour (3 hours)
Pienza and a Local Cheesemaker Tour (3 hours)
San Quirico, Artisanal Brewery and Farm visit (3 hours)
Florence – Venice (Piazzale Roma*) with a stop in Verona (7-8 hours including sightseeing time)
Why take the train to Venice when you can be accompanied by private car and driver that will take you through romantic Verona on the way? The first stop (optional) is a Veronese winery for a taste of the regional Valpollicella wines. Then proceed to Verona in time for lunch (paid directly) in the famous restaurant, 12 Apostoli**, where the owner will take you downstairs for an aperitivo in his wine cellar to see the restaurant's recently discovered Roman ruins. After lunch you have the choice of exploring Verona on your own, or meeting an expert guide for a tour of Verona's most famous monuments such as Piazza Erbe, Juliette's Balcony and the Arena before heading for your final destination, Venice.
Includes a 3-hour stop in Verona (or 2 hrs in the city and 1 hr for wine tasting) Depending on time of departure, clients have a choice of stopping for lunch, seeing Verona on their own, or adding a private guided Verona tour (additional charge). Lunch and wine tasting to be paid directly at the time. Please note that 12 Apostoli is closed every Monday.
* Clients traveling with more than one suitcase each may require a larger vehicle.
Ferrari Gallery Tour and Test Drive
Instead of stopping in Verona during the transfer between Venice and Florence, race car enthusiasts will love a visit to the Galleria Ferrari with the option of a Test Drive afterwards. Tour the interactive Gallery with the resident expert or on your own, then proceed nearby where your pre-selected model awaits you for a Test Drive accompanied by an expert professional driver to give you all the insider tips!
Florence City & Museums Tours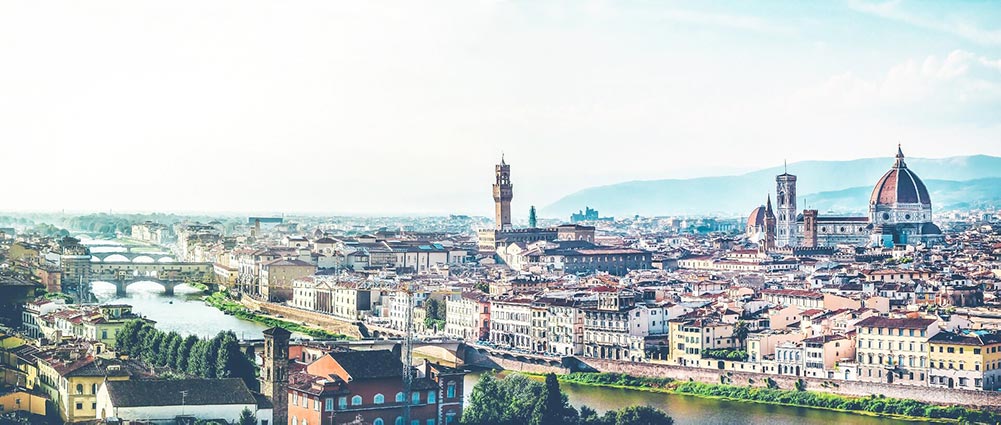 Florence Walking Tour (3 hours)
Meet your guide in your hotel lobby for a tour of the intriguing city of Florence that boasts some of the best- preserved Renaissance architectural monuments in Italy. Walk its winding cobblestone streets with your expert guide and visit Brunelleschi's Duomo, Piazza Della Repubblica, Piazza della Signoria, Santa Croce with its tombs of Michelangelo and Galileo and the Ponte Vecchio lined with centuries-old jewelry shops that is topped by the Medici families' secret passageway.
The Accademia and Medicis (3 hours)
Enter the Accademia Gallery with a reservation and visit the famous 'David', the statue that established Michelangelo as the greatest sculptor of his time. Learn about the making and history of this glorious sculpture, and tour Michelangelo's other works in residence. Also on display at the Accademia are paintings from other notable Renaissance artists, such as Uccello, Ghirlandaio, Botticelli, and Sarto. Proceed to the splendid Medici Chapels decorated with frescoes and inlaid stones, or visit the first residence of Cosimo di Medici, known as the Palazzo Medici Riccardi.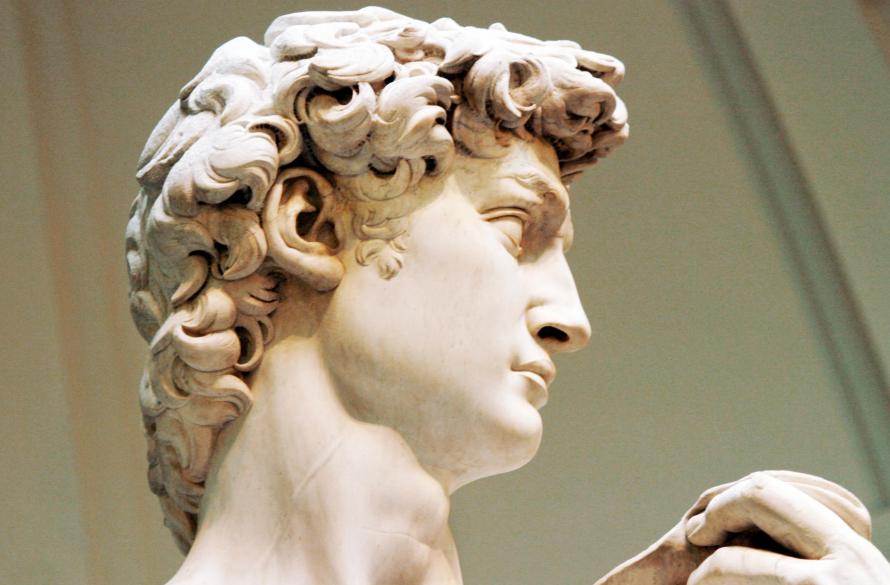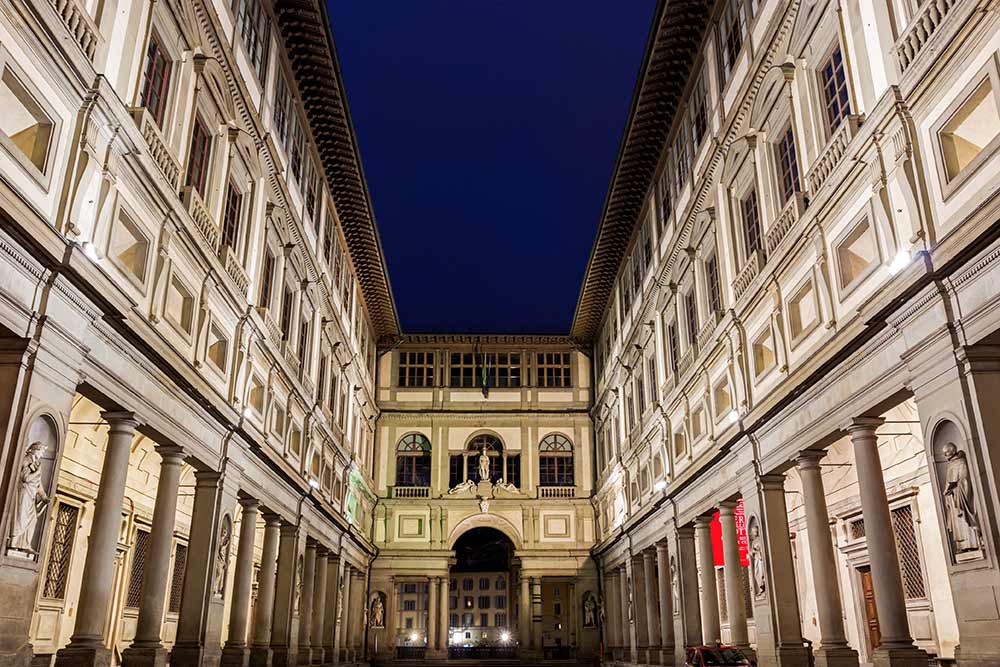 Masterpieces of the Uffizi (3 hours)
The Uffizi Gallery, one of the most important galleries in the world, offers a collection of world-famous artistic masterpieces such as Botticelli's Birth of Venus and Caravaggio's Bacchus along with other works by Renaissance masters Leonardo da Vinci and Michelangelo. You will enter with reservations and tour the gallery's treasures with an expert, English-speaking private guide. Tour will also include an overview of the Piazza della Signoria and Palazzo Vecchio.
Brunelleschi's Dome and the new Opera del Duomo Museum (3 hours)
Visit the stunning new Opera del Duomo Museum with your expert guide featuring fascinating models describing the construction of Brunelleschi's dome, the original bronze doors by Ghiberti, and an important collection of sculpture including another version of Michelangelo's Pietà, done when he was in his eighties. Access the museum's panoramic terrace for an up-close view of the Duomo where you can see the intricate details, then proceed on a walking tour around the piazza to learn about the actual construction of this masterpiece, that started back in 1296. End your tour with a peek into the ancient restoration workshop to see the craftsmen and stonemasons use centuries-old tools to restore pieces from the facade of the cathedral.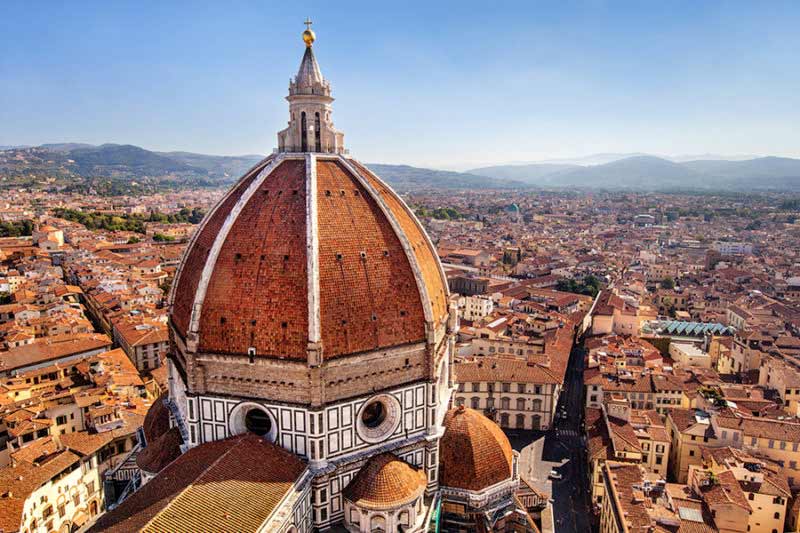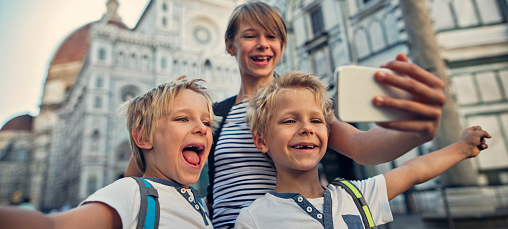 Florence for Kids (3 hours)
Kids have their own tour to enjoy with their parents when they are met in the lobby of their hotel by our kid- friendly guide for a morning or afternoon tour of the highlights of this great city with special emphasis on sites that are enjoyable for our younger guests. Stroll the streets of Florence and learn about the history during a chat about Medieval Florence with "Merchants, Monsters and Saints", or Renaissance Florence with "Lords and Heroes". Tour the Palazzo Davanzati, a medieval Florentine home that has been reconstructed and full of interesting tales, and the Interactive Exhibit of Leonardo da Vinci's machines.
The Jewish Heritage Walking Tour (3 hours)
Visit the city's splendid Moorish style synagogue and its museum in what was the city's Jewish quarter. Admire this structure's rich interior of inlaid marble floors, mosaics, and stained glass windows throughout. Hear about the history of Florence's Jewish community, especially during WWII, and tour the museum's unique works. Next, walk the city's streets with an expert guide to learns the importance of several historical Jewish sites located around city center, such as where the Ghetto once stood, Santa Croce, and Piazzas della Signoria and Repubblica.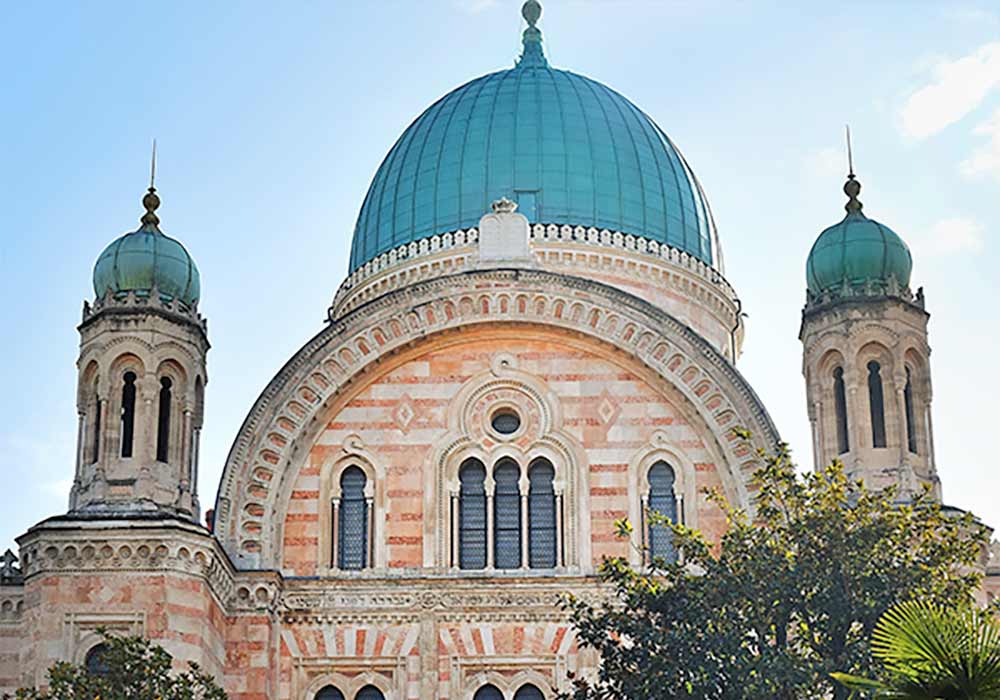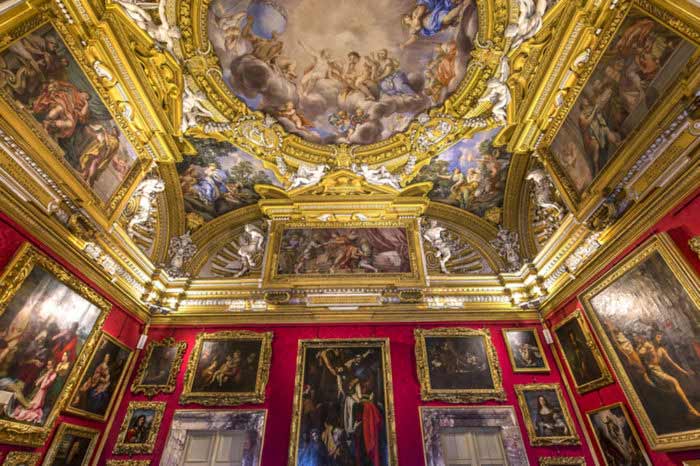 Pitti Palace and the Oltrarno Artisan Quarter (3 hours)
Visit the Pitti Palace which was originally built by the wealthy and powerful Pitti banking dynasty and later became the residence of the Medici family. Visitors will tour this great palazzo's architectural splendor with an expert guide, learning about its rich history and visit masterpieces such as Canova's Venus Italica and Titan's Portrait of a Gentleman. Afterwards, take a stroll along the narrow streets of the Oltrarno's artisan quarter to peek in the workshops of the master Florentine craftsmen.
The Palazzi of Florence (3 hours)
For those with a specific interest in historic palaces or noble families, this half-day walking tour visits the most famous and distinguished ancient homes in Florence. Start with the Palazzo Davanzati, home of a noble family from the 14th century. Filled with an impressive array of furnishing and paintings, it greatly reflects the tastes and lifestyles of such families during of this era. Next, stroll medieval streets to the Palazzo Vecchio. The building itself was completed in the 1300's and contains masterpieces by Vasari and Michelangelo, along with beautiful frescoed walls and ceilings throughout. The tour finishes at Palazzo Corsi, once home to a wealthy Florentine silk merchant turned great art collector, is still filled with fine objects, paintings, and rare furniture.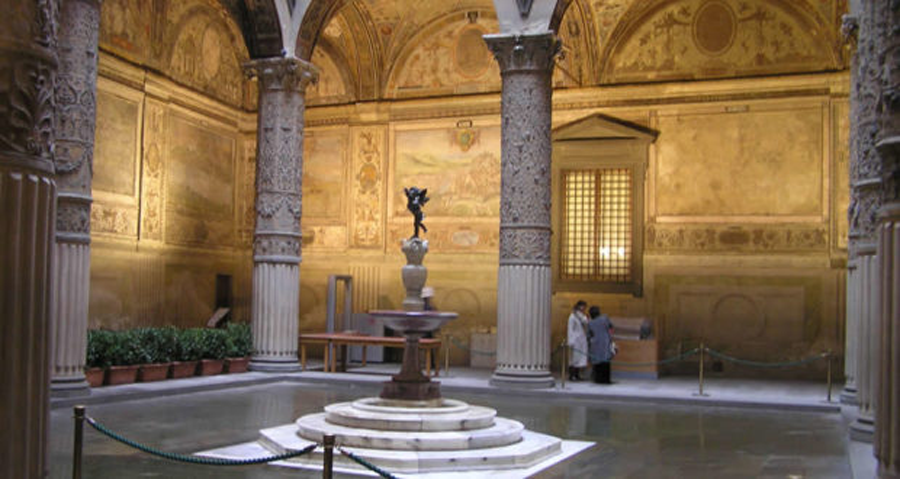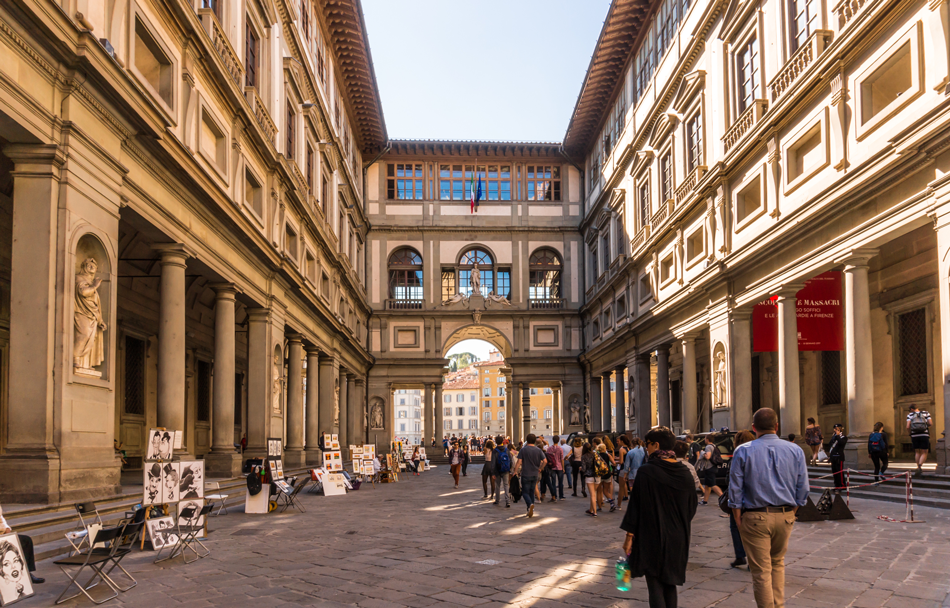 Full-Day Walking Tour of Florence (6 hours)
For a fantastic day in one of the world's most amazing cities, combine any of the two following tours for a spectacular overview of this cultural and artistic jewel. Florence Walking Tour, Uffizi Gallery's Works of Art, Accademia Gallery and the Medici Family, Pitti Palace Museums and the Oltrarno Artisan Quarter, Florence for Kids and Jewish Heritage Walking Tour. Departure is at 9 a.m. from the client's hotel. Please see above for more in-depth descriptions of each tour.
Please call or email us for a custom itinerary created just for you
Absolute Italy – Via Maggio 35 50125 Firenze Italy
(39) 055-212877 | info@absoluteitaly.it