Travel in style in your own private vehicle to your destination in comfort and safety. Most vehicles used for transfers are Mercedes E-class, V-class & 16 seat minibuses. We have sedans for 1-2 guests, compact minivans for 3-5 guests and minivans for 6-7 guests for each of the locations below.  We are happy to suggest fun stops for sightseeing during transfers with further destinations.
VIP Rome Airport Arrival Assistance available at Rome's FCO airport that includes greeting by hostess after Passport Control who will accompany you to the correct Baggage Claim area and arrange for porterage of your bags out to your waiting driver. For guests in departure service includes greeting curbside by assistant and porter with assistance to your check in desk and the security checkpoint.
Rome Private Transfers with Sightseeing
Rome to Florence (6-7 hours)
Take advantage of a private transfer with driver to Florence to stop along the way for sightseeing, with or without
an expert guide. Choose between four routings.
* Clients traveling with more than one suitcase each may require a larger vehicle. ** Add City Bus Permits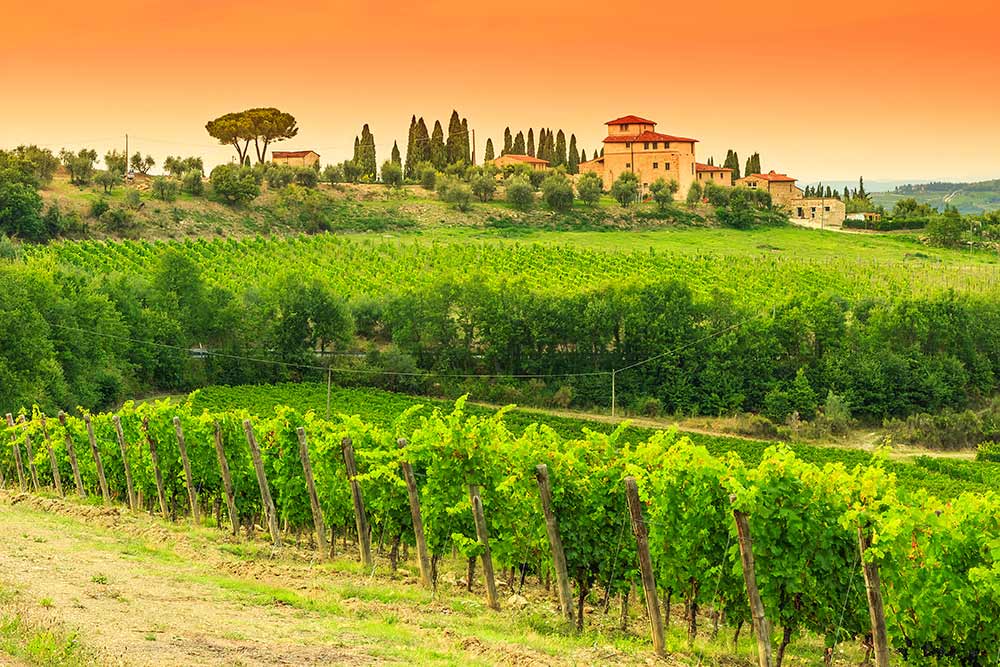 Option A: Chianti Sightseeing
Stop in two of the quaint towns of Chianti for sightseeing on your own, along with a local vineyard for a wine tasting tour. Wine tasting fees and lunch to be paid directly. For true Wine Enthusiasts we can reserve a special Wine Tasting Lunch at the Antinori vineyards for an extra fee.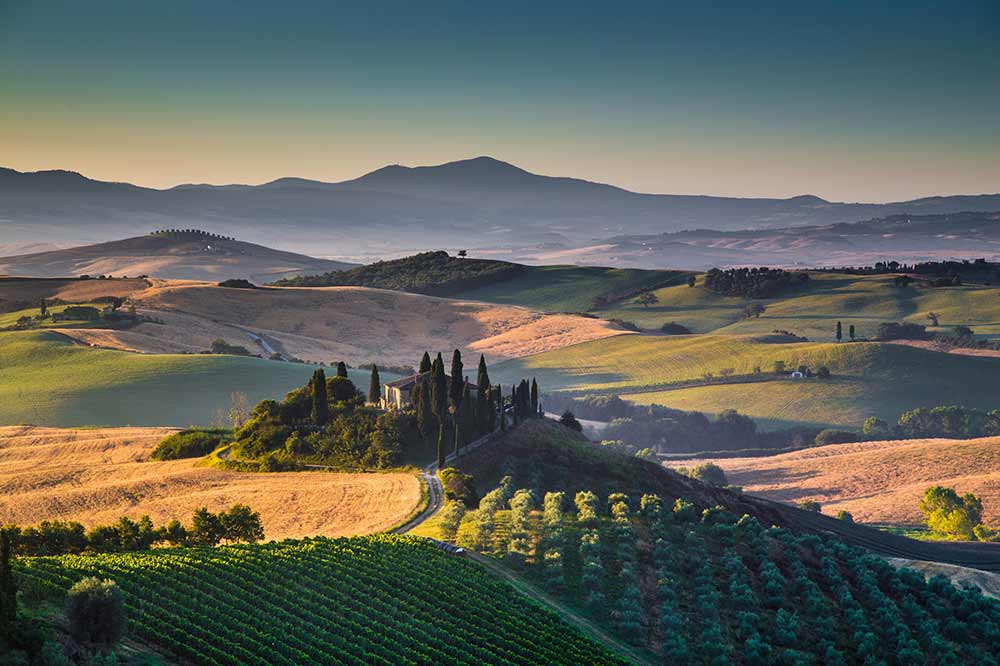 Option C: Southern Tuscany Sightseeing
Visit the towns of Montepulciano and Pienza on your own, with free time for lunch, or add one of the options below to include an expert guide and 3-hour tour to experience an olive oil tasting at an olive mill, a winery visit or stop at a pecorino cheese maker for a tour and tasting:
Montepulciano, a Winery and an Olive Oil Mill Tour (3 hours)
Pienza and a Local Cheesemaker Tour (3 hours)
San Quirico, Artisanal Brewery and Farm visit (3 hours)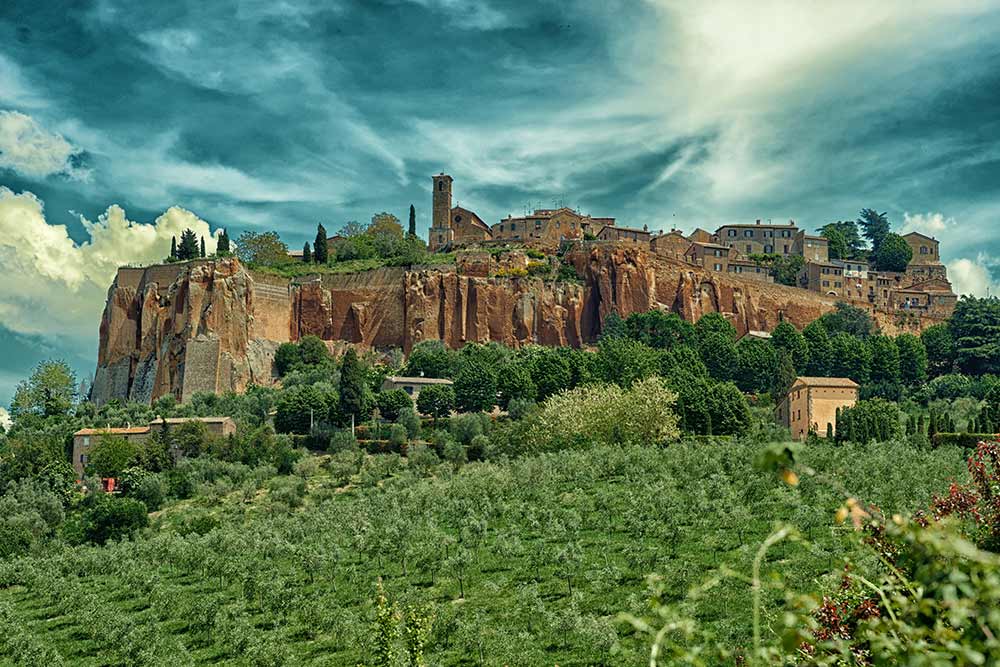 Option D: Orvieto and Winery/Olive Mill Tour (3 hours)
Proceed into the countryside to our favorite winery that produces its own Extra Virgin Olive Oil and Wine, tour the property and enjoy tastings of both specialties along with local cheeses, salumi and vegetables before proceeding to the famous Umbrian town of Orvieto, where you will meet up with your guide and take a walking tour of the historical center along its medieval cobblestone streets to see the famous Duomo and the Pozzo of San Patrizio (entry fees required to tour internally). Continuation afterwards to your final destination of Florence.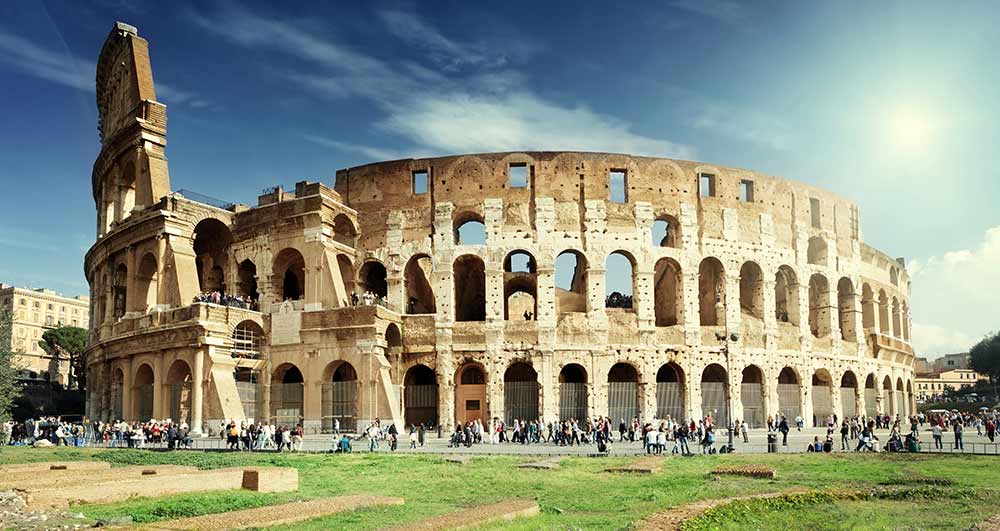 Ancient Rome Tour with Reserved Entrance (3 hours)
Take a journey through time and discover Ancient Rome with your expert guide and driver. See the famous sites of the Roman gladiator fights at the Colosseum, learn the meaning of the ruins at the Forum, and visit Circo Massimo, the Arch of Constantine and Piazza Venezia. We recommend an 8:00 am start for morning tours.
The Vatican Experience: St Peter's Basilica and the Sistine Chapel with Reserved Entrance (4 hours)
Enjoy an informative tour of the Vatican accompanied by an expert guide with pre-reserved entrance times to the Vatican Museum and Sistine Chapel. Our special relationship with the Vatican enables us to reserve your entrance to avoid waiting in the immense lines that one finds most of the year. Transfer by taxi to the Vatican for this four-hour in-depth tour where you will learn about the great artists who helped to embellish one of the most fascinating sovereign states in the world. Visit the Vatican museums which includes some of the world's most precious artistic and religious treasures including the Galleries of Maps, Candelabras and Tapestries, the Raphael Rooms, and Michelangelo's stunning frescoes in the Sistine Chapel. Afterwards, a visit to St Peter's Basilica completes the tour with its splendid sculptures and mosaics of great historic and religious importance.
Tours are available Monday through Saturday with start times from 8:30 am through 2:00 p.m. and we offer three options; Private Vatican Tours, Evening Vatican Tours and Breakfast at the Vatican Tours. A preference for morning or afternoon should be stated at the time of booking, along with any possible alternative dates.
Private Vatican Tour (4 hours)
Your private guide will meet you in your hotel and you will proceed by taxi (to be paid directly) to the Vatican. Enter with a reservation and tour the Vatican Museums, Sistine Chapel and St Peter's Basilica.
Tickets are an additional cost and pre-purchased ahead of time.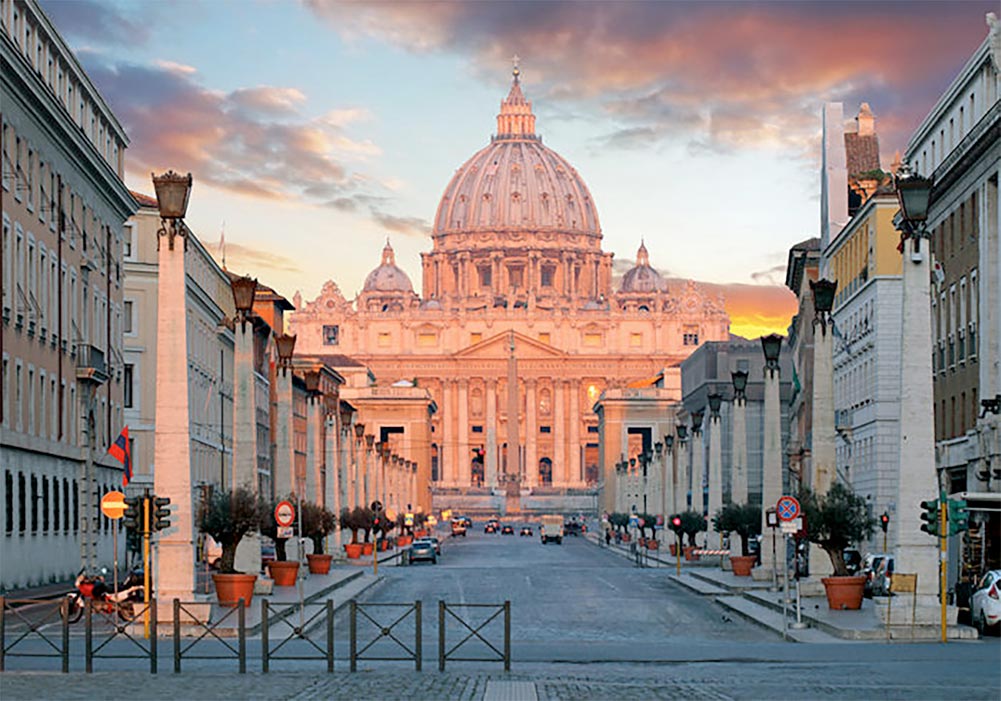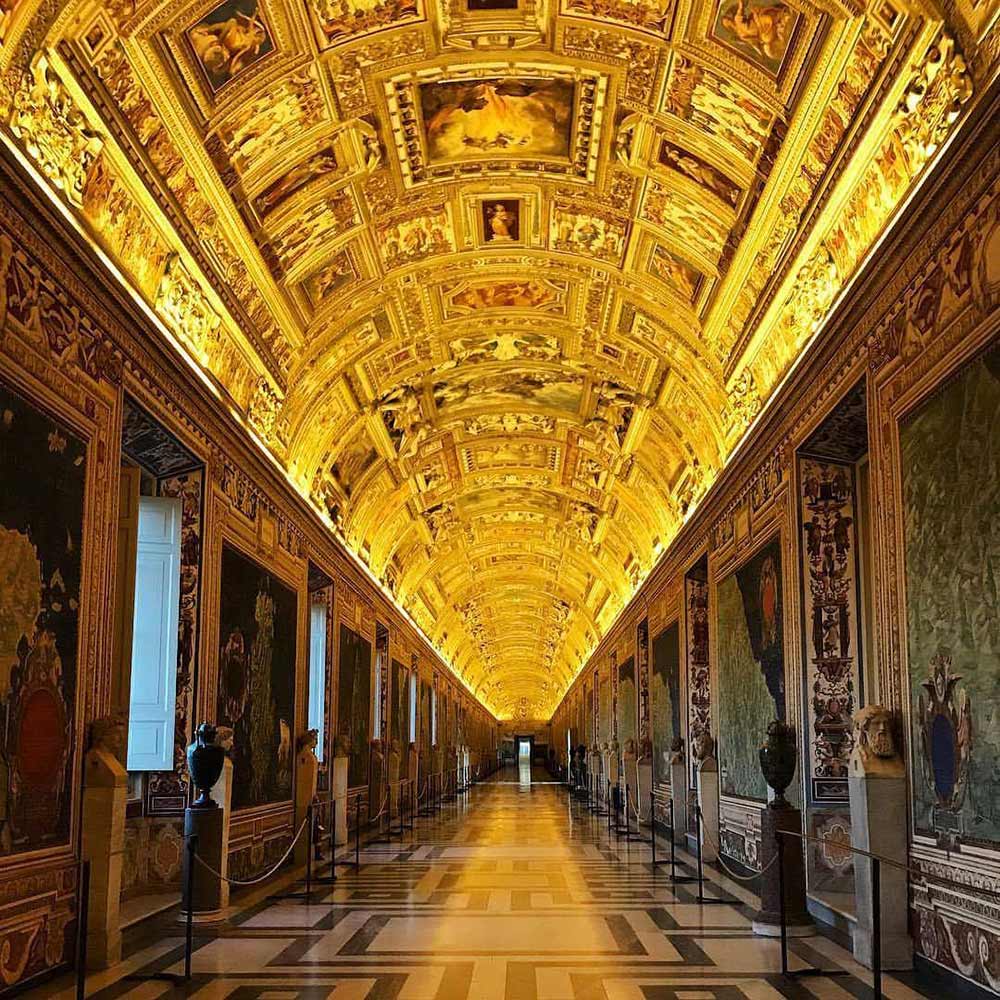 Vatican Scavenger Hunt for Kids
Let us know that you are visiting the Vatican with kids and we'll match you up with a child-friendly guide armed with a colorful kids map that will involve them in appreciating the treasures of the Vatican by searching for the highlights, accompanied by the narrative of your private guide. Please add a € 10 supplement per child.
Private Vatican Tours in the Evenings (2 1⁄2-3 hours)
Meet your expert guide in your hotel lobby and proceed by taxi (to be paid directly) to the Vatican. The Museums and Sistine Chapel are open to the public on Friday nights and this is an exceptional opportunity to see the Vatican in the evenings with the lights of Rome visible from the terraces. We would recommend having an early dinner and meeting your guide for an 8:00-8:30 p.m. appointment to start the tour. Visit the museum's collections with your expert guide and end with the spectacular Sistine Chapel. Please note that the Basilica of St Peter's is not included in this tour. Available from May-July and Sept-Oct. Entry ticket costs to be added.
Breakfast at the Vatican with Early Entrance (4 hours)
Enjoy a privileged entrance into the Vatican before it opens to the public on this exclusive tour. Meet your expert guide in your hotel lobby at 6:30 a.m. and proceed to the Vatican by taxi (to be paid directly) where you will enter with a reservation for buffet breakfast in their cafè, followed by a tour of the Sistine Chapel with your expert guide before it is full of the everyday visitors that have made the Vatican one of the most-toured sites in the world. Enjoy walking the silent halls with your guide for a brief overview of the Vatican Museums, and end your visit with a tour of the highlights of the St. Peter's Basilica and piazza.
Includes entry fees to the Vatican and buffet breakfast in their restaurant, along with expert guide. This tour only touches on the highlights of the Vatican Museums and its important art collections. Private transportation is available at extra fee.
For any Vatican tour the entrance tickets must be purchased for adults and for kids 6-18 years of age, and will be charged to your credit card along with the tour price. We cannot take responsibility for the Vatican's reservation system or ticket availability. Tickets are not refundable in any circumstance for cancellations less than 60 days before the tour date. Please provide full names of all guests and ages of any children at the time of booking
The Sistine Chapel and Vatican Museum are closed Sundays, along with religious and national holidays and we discourage booking on Wednesday mornings when the Basilica is often closed. Please note the 2017 closing dates of the Vatican: Jan 1 & 6, Feb 11, Apr 17, May 1, Jun 29, Aug 15 & 16, Nov 1, Dec 8, 25 & 26.
Headsets are required for Vatican Tours of 6 pax or more and can be rented on-site. Please ask about adding a morning visit of the Vatican Gardens to our afternoon Private Vatican Tour.
Classic Rome Tour (3 hours)
This delightful tour, full of historical anecdotes with a private expert guide will allow you to visit the main artistic and architectural monuments of Classic Rome. View Nicola Salvi's theatrical design the Trevi Fountain, Bernini's Baroque style in Piazza Navona, feel the charm of the Spanish Steps and witness the most extraordinary and best preserved ancient building in Rome, the Pantheon. Includes car and driver.
Any entry fees to be paid directly onsite.
Classic Rome Walking Tour (3 hours)
The Classic Rome Tour described above can also be booked without the private driver and vehicle.
If necessary, guide and clients will travel by taxi from the clients' hotel to the start of the tour; clients will pay taxi directly. Any entry fees to be paid directly onsite.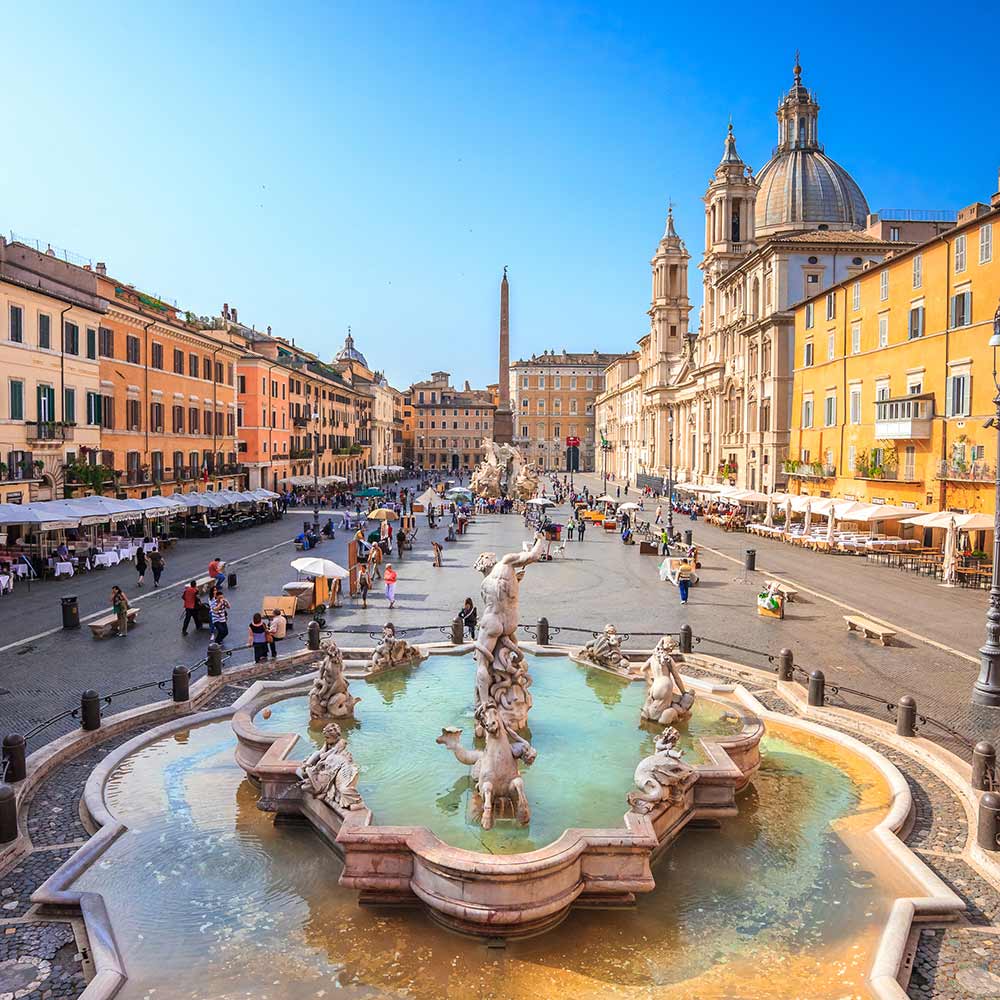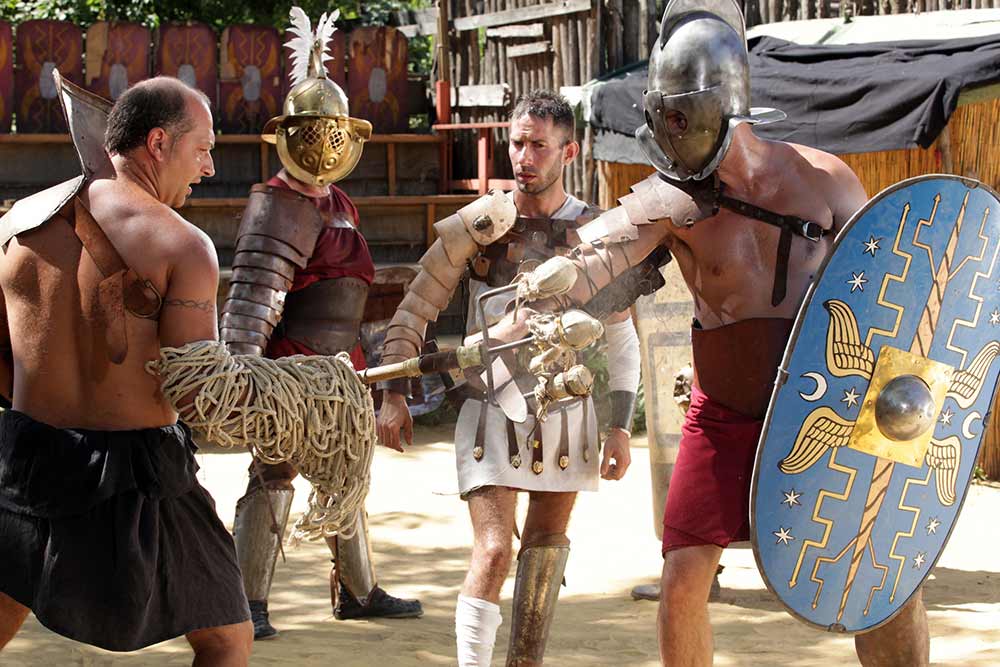 Roman Gladiator School (2 Hours)
In ancient Roman times, public entertainment was provided at the Coliseum with combat between sword- wielding gladiators and wild animals. Our Roman Gladiator School will teach you about the history of this tradition and allow you to train with authentic weapons used by gladiators of ancient Rome. Sessions are organized and led by members of the Historic Group of Rome, who specialize in the authentic re-enactment of Ancient Roman life & Gladiatorial combat. Each lesson includes an introduction to Roman History in the museum with Gladiator memorabilia, swords and armor and you can see the actual costumes and weapons that these unwilling warriors used (most gladiators were not free men). Afterwards you will don your tunic, choose your weapon and learn the basic techniques of gladiatorial sword fighting with your expert instructor. All the participants receive a special certificate of accomplishment.
Please note courses are open to participants 6 years and older, and that that kids 17 years or younger must be accompanied by a parent or guardian.
Rome Pizza Making (2 1/2 hours)
Learn the secrets of a Roman pizzaiolo during this hands-on small group lesson in his rustic pizzeria in one of Rome's typical neighborhoods. Meet at the pizzeria (address will be supplied) and start with a tour of the local fruit and vegetable market, then proceed to your work station in the pizzeria where you will don your apron and begin the theoretical lesson on the proper base, choices of toppings and cheeses and preparation techniques. Then begin work on your own pizzas under the pizza-maker's tutelage and pop them in the wood-burning oven when you have perfected your work. Enjoy your pizzas for lunch or dinner accompanied by soft drinks or wine.
Available morning or afternoon 7 days a week. This is a small group lesson with a maximum of 8 guests. Private lessons available upon request, please ask for pricing.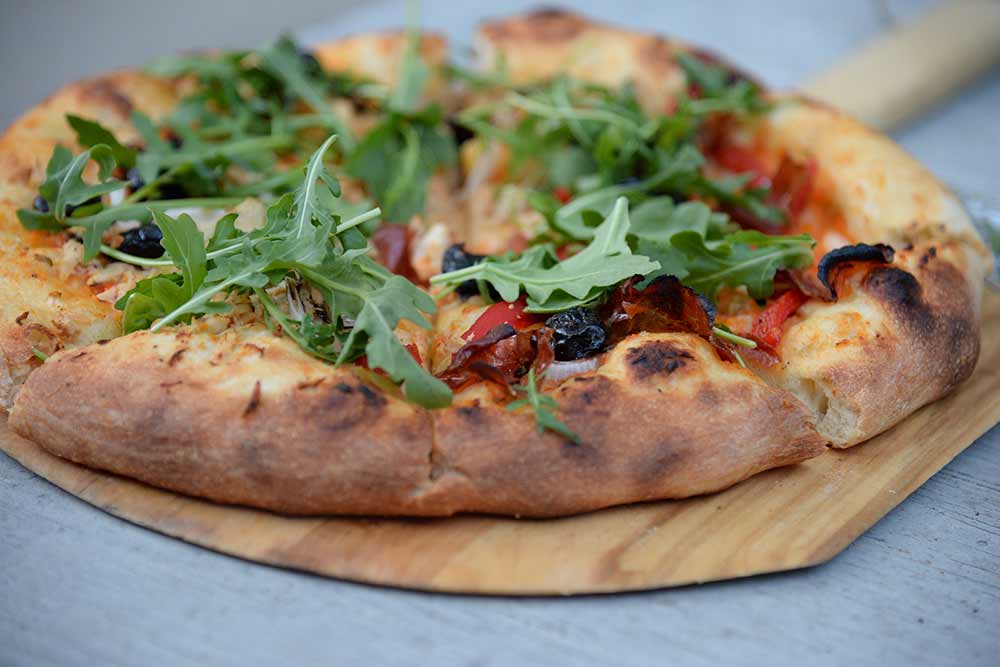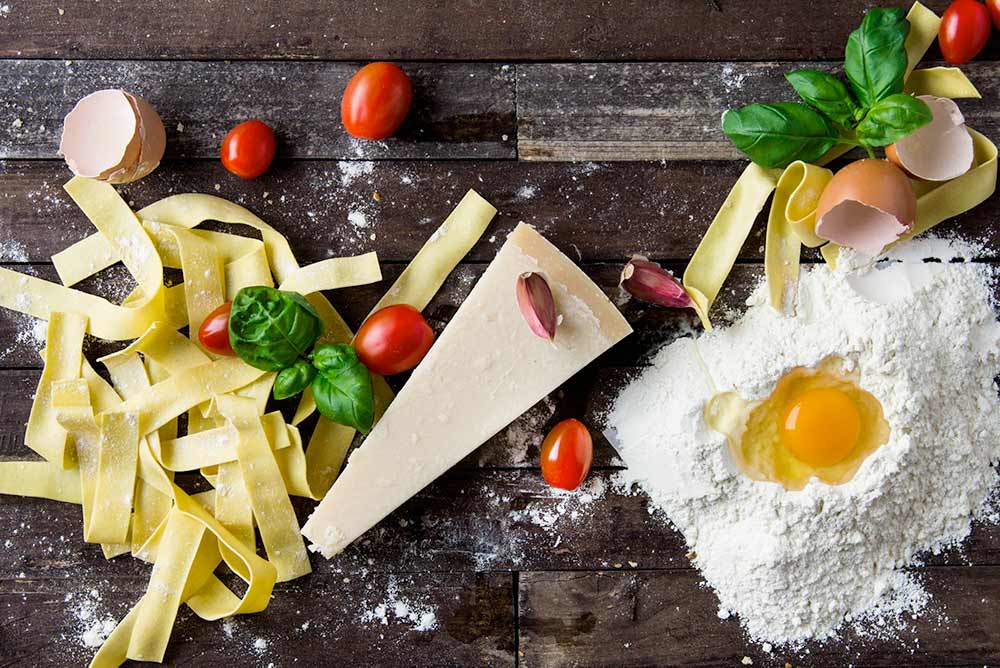 Roman Cooking Lessons (4-5 hours)
Enjoy the experience of cooking a complete Italian meal with a Roman chef, who will reveal his best techniques during this small group lesson in central Rome. You'll shop in a local market, choosing fresh ingredients to use in your cooking class and then prepare your meal in an exclusive location in the heart of the Eternal City (address will be sent). You'll make homemade pasta such as ravioli or fettuccine and prepare other dishes under the guidance of your personal chef to produce a full meal. At the end of the course, enjoy the dishes you've created accompanied by the perfect wine your chef has selected to complement your lunch. Real food, pure indulgence. Includes pasta, main course, dessert, wine and water.
Available morning or afternoon 7 days a week. Private lessons available upon request, please ask for pricing
Gastronomic Walking Tour of Rome (3 hours)
Experience a morning in the life of a typical Roman exploring the local markets and specialty shops in search of the finest gastronomic specialties of the city. Stop in a local bakery to learn about Rome's breads and pastries and then continue to the characteristic Campo dei Fiori with its open-air market featuring local foods and souvenirs of the city. End the tour in a well-established gastronomy shop and enoteca that hosts an abundance of regional cheeses, cured meats, a wine list of Italian and foreign labels and enjoy a nice wine tasting of three local vintages from the vineyards outside of Rome accompanied by typical appetizers of cold cuts and specialty cheeses.
Includes expert guide and tastings.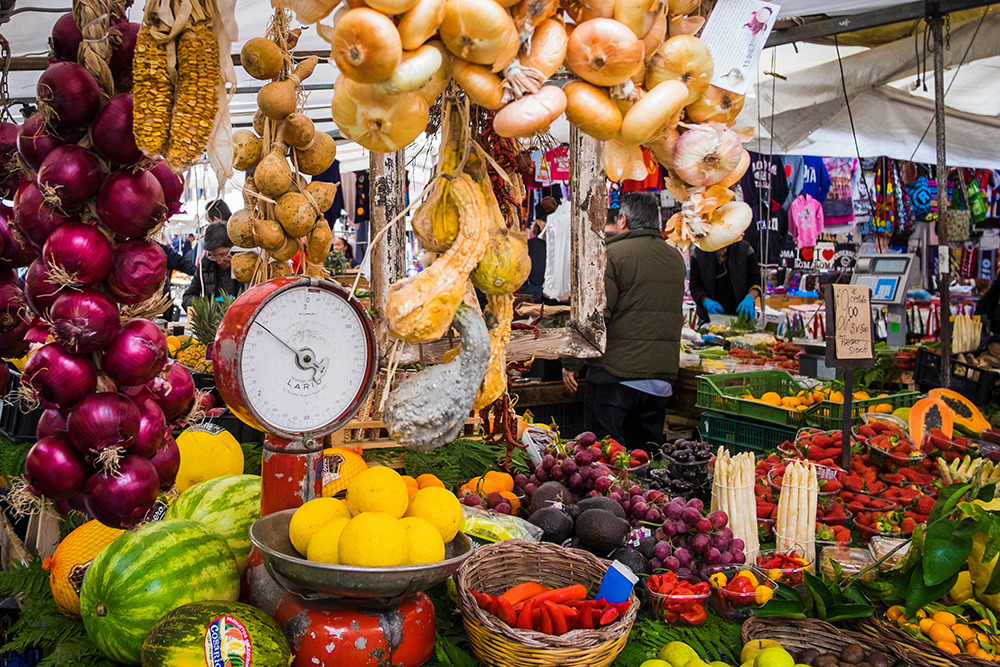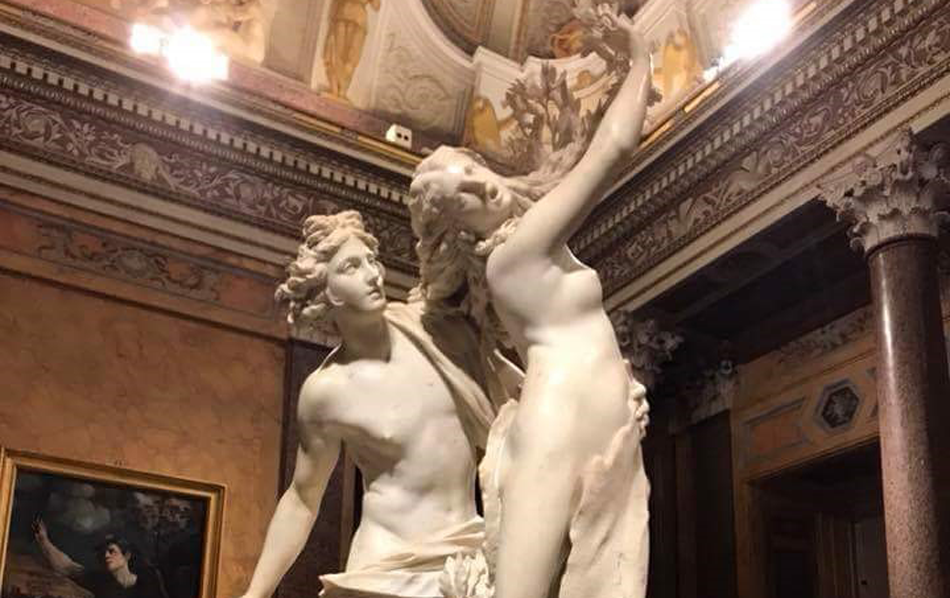 The Borghese Gallery and Gardens Tour (3 hours)
The perfect tour for art lovers! The original sculptures and paintings in the Borghese Gallery date back to Cardinal Scipione's collection and include masterpieces by Rubens, Bernini and Caravaggio. You will enter with a reservation and your expert guide will lead you through the gallery with explanations to appreciate these famous works of art. Afterwards you can take a stroll through the Borghese Gardens, one of the first parks of its kinds in Rome with its formal gardens divided by avenues and graced by statues. Otherwise your guide can call a taxi for a ride through the park before returning to your hotel.
Taxi fees to be paid directly; private driver can be arranged upon request.
Entry fee for adults andchildren under 18 to be prepaid, and groups of 4 or more are required to rent headphones . Closed Dec 25, Jan 1 and May 1 and every Monday.
Rome Underground (3 hours)
Discover the vast labyrinth of Roman Catacombs, the ancient cemeteries where many saints and popes where buried, during this tour with expert guide. Then proceed to the Church of San Clemente, with its three levels of churches constructed atop one another where you will descend from the stunning 12th century basilica down to the 4th century church and then further below ground to the temple of the cult of Mithras, a mystical all-male religion imported from Persia. Many beautiful mosaics and frescoes are still viewable throughout the churches.
Includes car and driver and private guide. Entry fees to be paid directly for adults, kids discount available.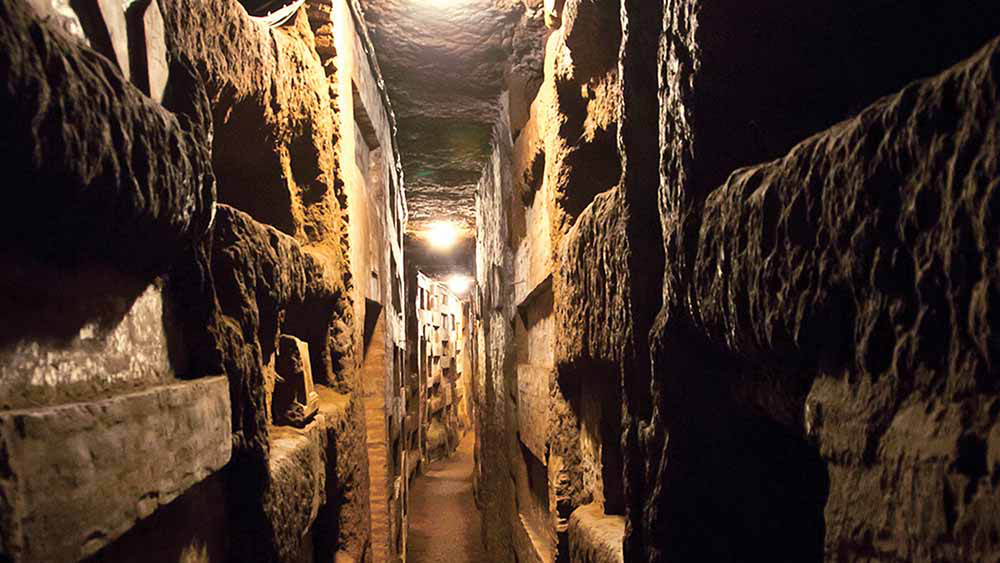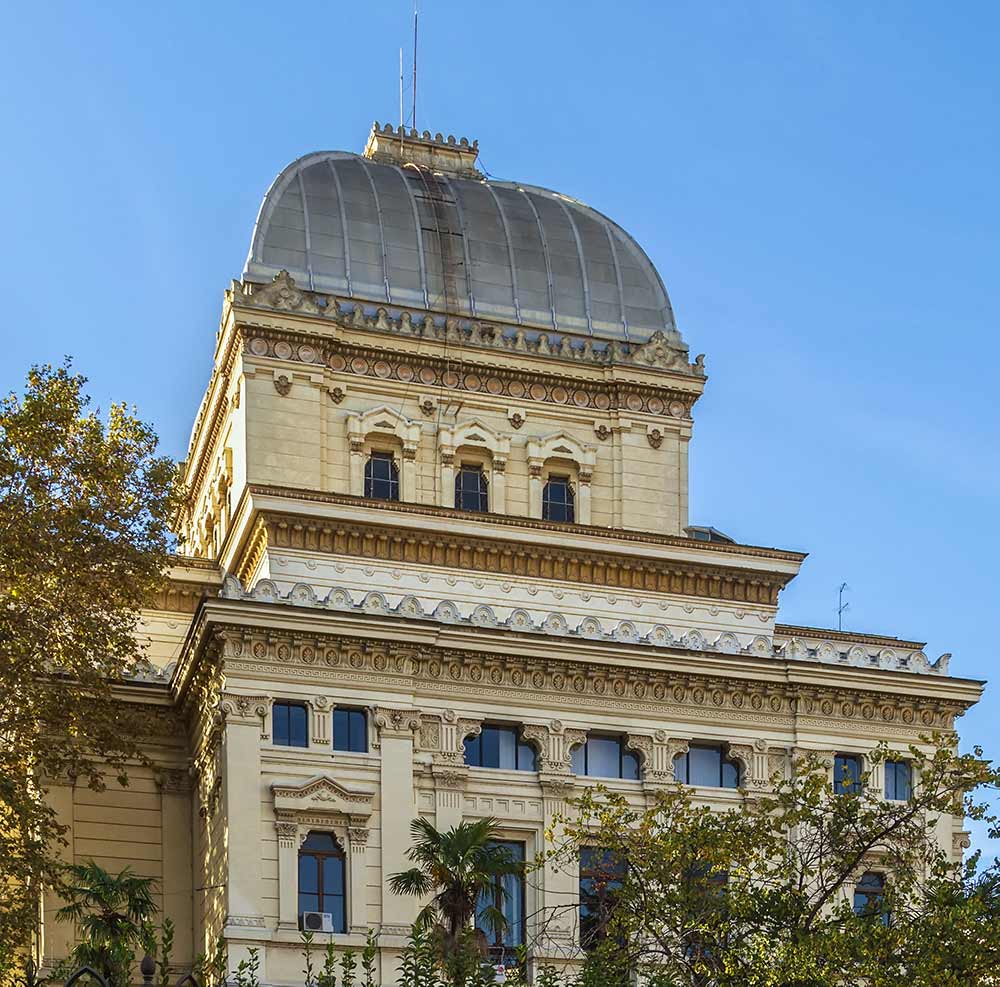 Jewish History in Rome (3 hours)
This Jewish heritage tour includes a visit with expert guide to the beautiful Rome Synagogue and museum, where their resident expert will show you both the ancient and modern Synagogues. Proceed with your guide on a walking tour of the ghetto dating back to the 16th century, along with the ancient fish market. Finish the tour with a visit to Michelangelo's statue of Moses in the San Pietro in Vincoli church and a discussion of Judaism in Rome over the centuries.
Includes car, driver and private guide. Entry fee  to be paid at the site for guests over 9 yrs old. This tour is unavailable on Friday afternoons, Saturdays, or Jewish holidays including April 10, 11, 12, 17, 18, May 31, June 1, Aug 1, Sep 21, 22, 29, 30, Oct 5, 06, 11, 12, 13.
Rome by Night (2 hours)
See Rome's magnificent colors after dark during this driving tour to discover the highlights of the Eternal City. Visit the famous monuments that take on a new appearance lighted at night, and finish the tour with a stop at a secret spot to see a surprise view of one of Rome's most famous sights! Depart with your English-speaking driver at the time of your choice.
Full Day Rome Tour with Driver and Guide (6 hours)
Combine any two of the following for a full day tour: Ancient Rome, Vatican City, Classic Rome, Rome
Underground or Jewish History. Departure is at 9:00 a.m. from the client's hotel.Entry fees are additional. If the Vatican tour is chosen as part of a full day tour, the more concentrated 3-hour version will be given.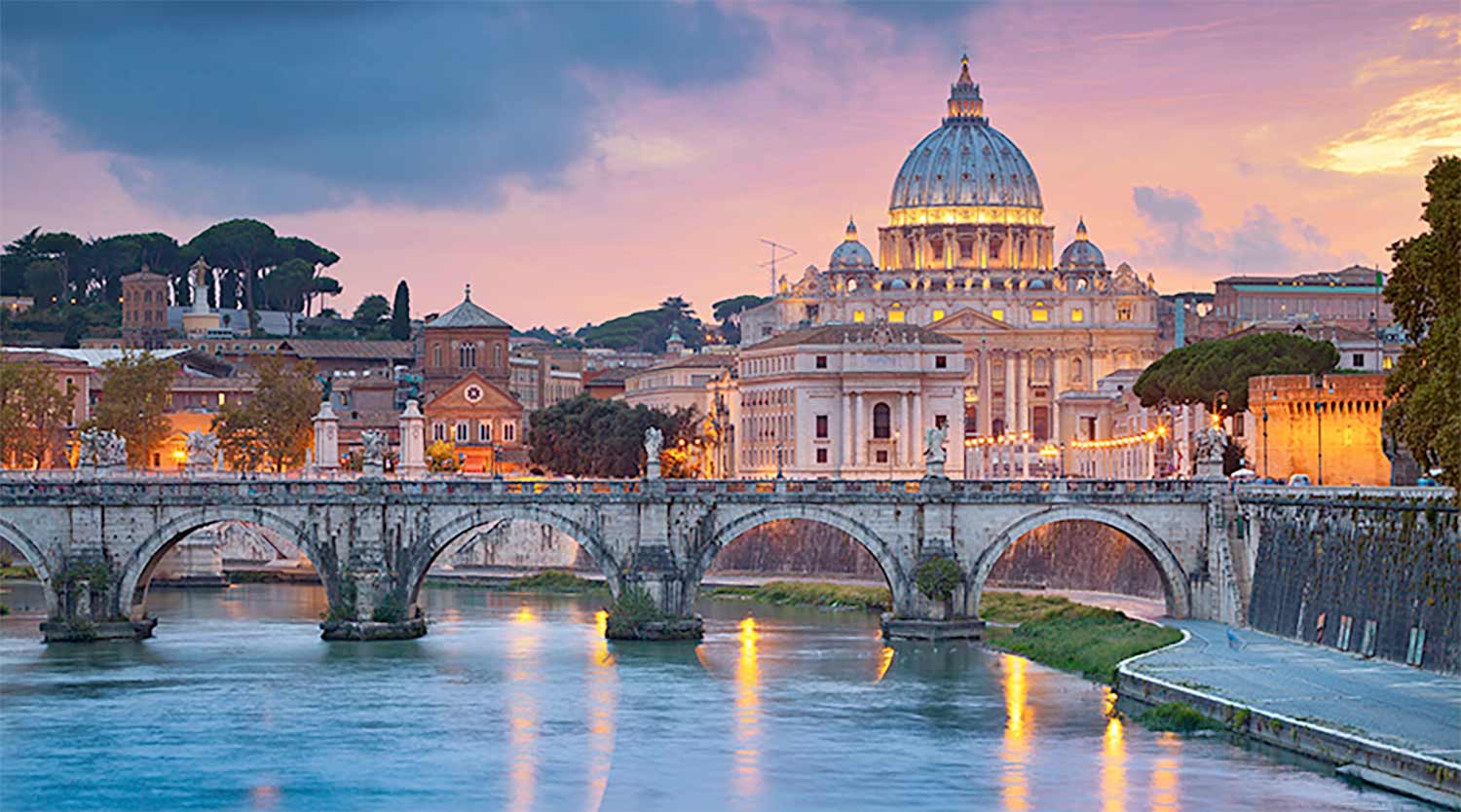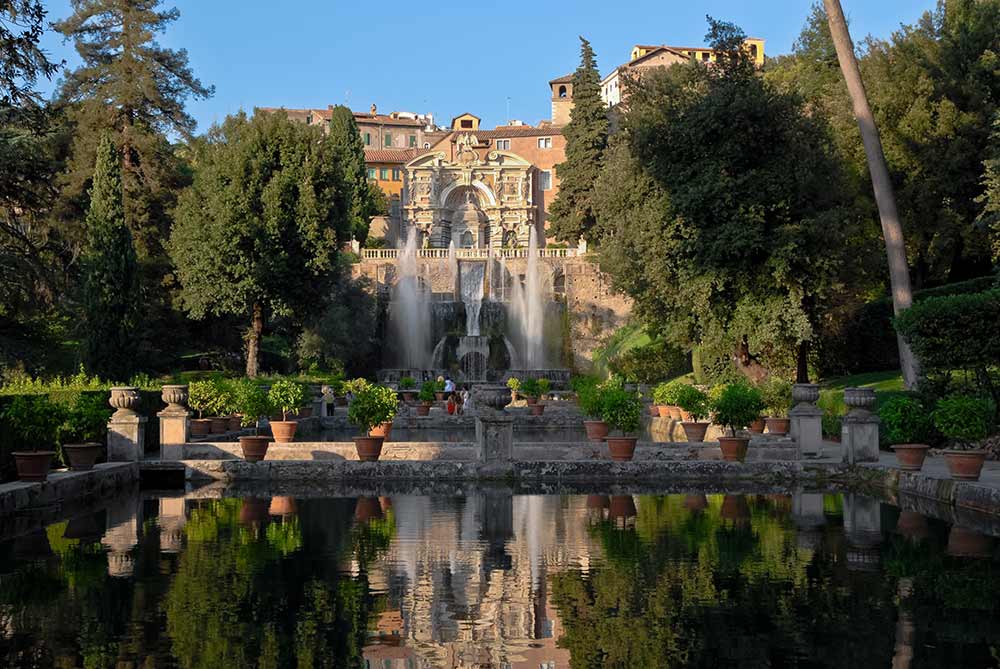 Tivoli's Villas and Gardens (6 hours)
Depart your hotel at 9:00 am with your expert guide and private car, for a relaxing day discovering the archeological wonders of Tivoli. Tivoli's picture-perfect countryside, fresh air and beautiful views greatly attracted the Imperial Romans. Visit the ruins of Hadrian's Villa, one of the largest and most spectacular villas ever built in the Roman Empire. Then visit the town's most famous sight: Villa d'Este, a country residence built in the 16th century by Pirro Ligorio for Cardinal Ippolito d'Este. Walk through its immaculate gardens, rich with fountains, and imagine the luxurious life back in the days of the ancient Roman royalty.
Entry fees are to be paid directly. Not available Mondays.
*Rome Bus Permit Fees additional for all tours/transfers in Rome using a minibus.
Amalfi Coast and Pompeii with Private Driver from Rome (10 hours)
Depart with your driver at 8:00 am for transfer in private car to Pompeii where you will meet your expert guide for a walking tour of the archeological site of Pompeii, a city that sprawls to the foot of Mt Vesuvius which erupted in 79AD. Rediscovered after excavations in the 17th century, Pompeii offers a glimpse of its surviving buildings including age-old paintings and sculptures. After an in-depth visit of the archeological site, stop for lunch (to be paid separately), and enjoy the breathtaking views of the Amalfi Coast with time at leisure to visit the town of Sorrento. Return to Rome by 6:00 p.m.
Entry tickets are to be prepaid. Includes driver and local
Pompeii guide on the Amalfi Coast. *Required Bus Permits for groups of 8-14 pax to be added.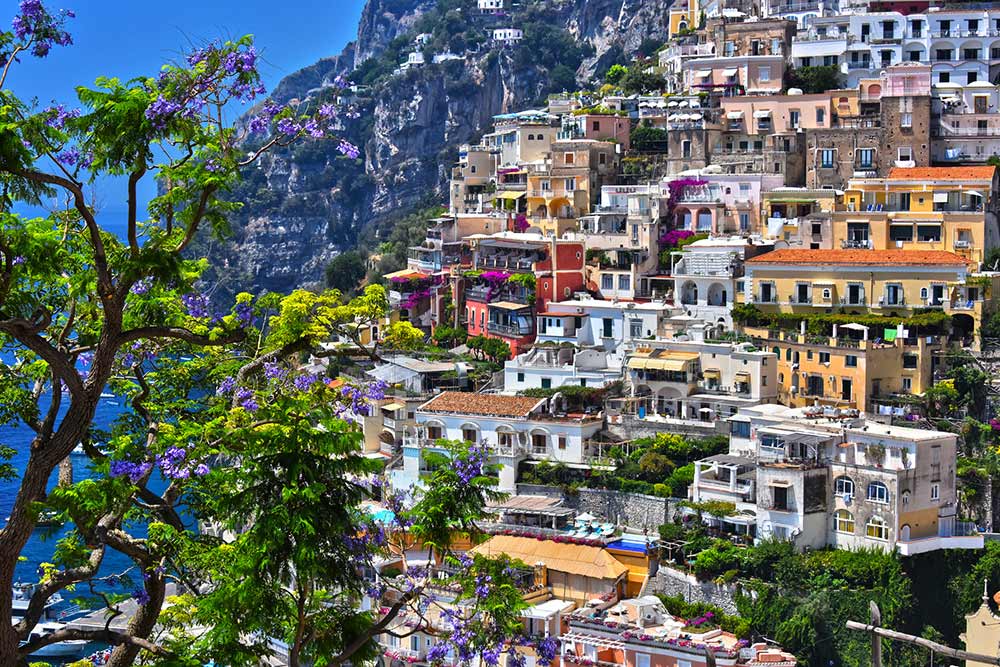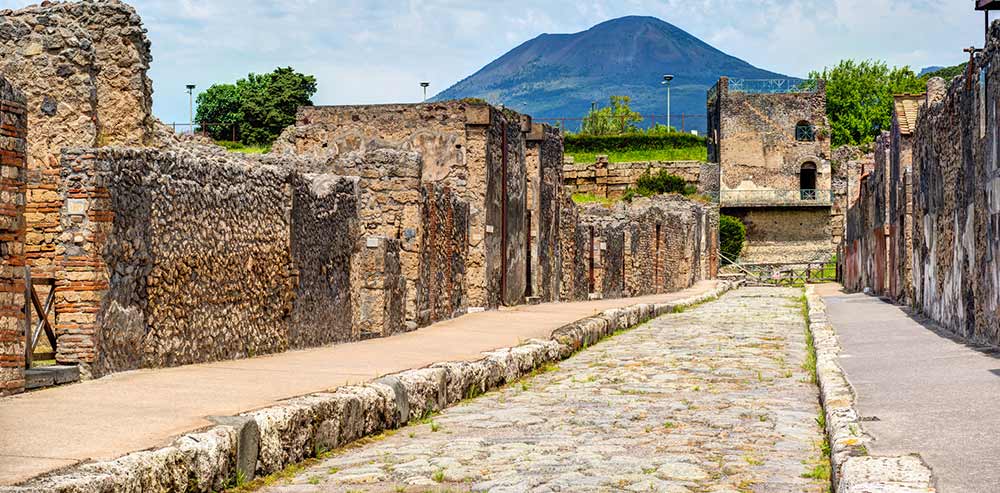 Amalfi Coast and Pompeii by First Class train from Rome
Take the new AV fast train in First Class from Rome to Naples (only 1 hr 10 min journey time) and meet your local driver upon arrival in the Naples train station He will accompany you for a day of exploring the beautiful Amalfi Coast. Visit Pompeii during a two-hour walking tour with expert guide and discover the hidden city beneath the ruins, then proceed to Sorrento and Positano OR Amalfi and Ravello for sightseeing on your own before returning to the Naples train station at the end of the day for the return to Rome.
Includes 1st class (Business) roundtrip train tickets Rome – Naples, car and driver 8 hours from Naples and expert guide in Pompeii. Entry tickets are to be  prepaid. Private transfers to the Rome train station can be arranged at additional cost. Train discounts available to kids 14 yrs and younger.
Please call or email us for a custom itinerary created just for you
Absolute Italy – Via Maggio 35 50125 Firenze Italy
(39) 055-212877 | info@absoluteitaly.it