Travel in style in your own private vehicle to your destination in comfort and safety. Most vehicles used for transfers are Mercedes E-class, V-class & 16 seat minibuses. We have sedans for 1-2 guests, compact minivans for 3-5 guests and minivans for 6-7 guests for each of the locations below. We are happy to suggest interesting stops for sightseeing during transfers that can include wine tastings, lunch and touring.
Milan and Lake District Tours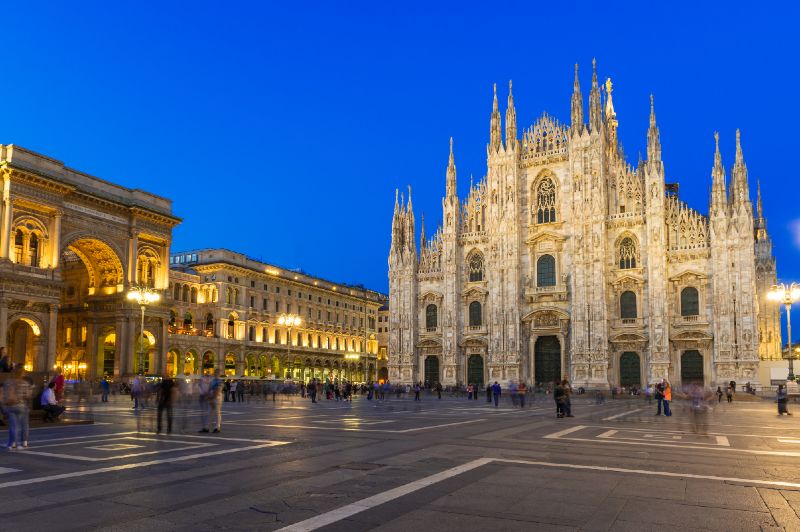 Milan City Walking Tour (3 hours)
Milan is synonymous with Italian fashion, and if clients can walk away from the art offered by Valentino, Gucci, and Armani, there are plenty of important historical sites to explore. On this impressive tour, our expert guide will explain city's historical center, including the spectacular gothic Duomo, a masterpiece that took more than 500 years to construct, the exterior of La Scala Theater where many of the greatest names in opera have made their debuts, and finally one of the most famous works of art in the world, Leonardo da Vinci's 'Last Supper' with reservations.
Milan Shopping Tour (3 hours)
Do you have an interest in shopping and want to ensure you'll find the best items "Made-in-Italy"? A Milan Shopping Expert will recommend exclusive and specialized boutiques based on your interests where you can see bespoke designs, accessories, shoes, and housewares created by Italian designers, and help you negotiate the myriad of appealing choices to find the items that are perfect just for you. For clients interested in production, a stop can be made in a local designers' workshop upon request.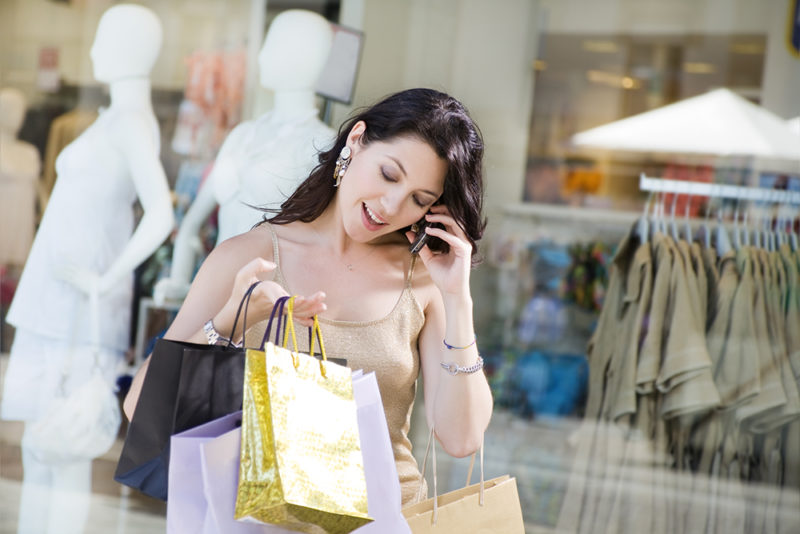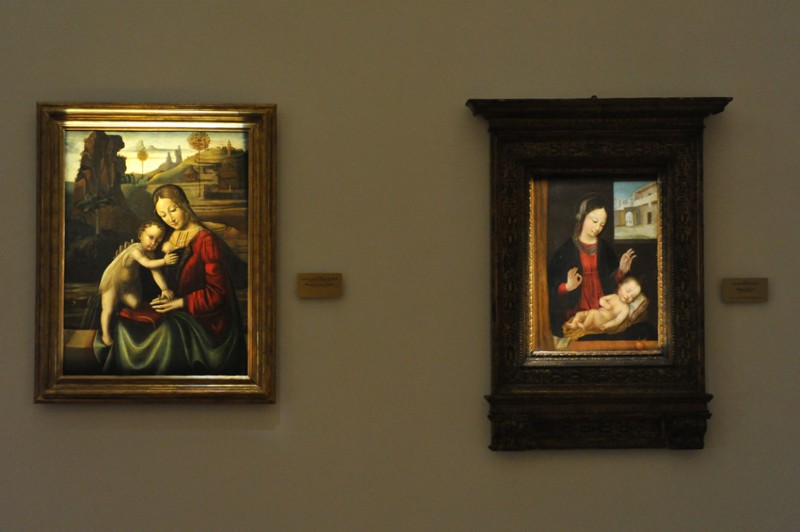 Milan Renaissance Art Tour (3 hours)
Meet your expert Art Historian in your hotel lobby for a tour of the Renaissance artworks of Milan.
The Pinacoteca Ambrosiana is the oldest museum in Milan and dates from 1618. Located in the Ambrosian Library (Biblioteca Ambrosiana), it houses many notable artworks, including sketches by Raphael for the School of Athens mural, which the artist later painted in the Vatican. Also, on display are Caravaggio's Basket of Fruit, Leonardo da Vinci's Portrait of a Musician and Boticelli's Madonna and Child with Three Angels.
Next, visit the nearby Church of S. Maurizio al Monastero Maggiore, a jewel of Renaissance Lombard art with its unique and fascinating history, filled with colorful frescoes by Bernardino Luini (available on Tues.& Thurs. mornings and Sat. afternoons). Or, see Michelangelo's marble statue of the Pietà Rondanini at the Museum of the Castello Sforzesco upon request.
Milan's Duomo Rooftop and Navigli with Aperitivo (3 hours)
Depart with your private guide in the afternoon and enjoy a priority entrance to ascend to the rooftop of Milan's famous Duomo for a breathtaking view over this vibrant city, for a stroll to witness the typical marble spires that rise to the sky and the other architectural highlights of the town. Proceed to the hottest spot in Milan, the Navigli area, with its trendy bars and restaurants lining the canals that cut through the city.  This historic neighborhood with its ancient homes and traditions is transformed in the evenings to a lively social scene that no true Milanese would miss. First learn about the fascinating canal system (Leonardo da Vinci was involved!) that run all the way to Lake Maggiore, then tour the area on foot to learn about the neighborhood's architecture and traditions.  Partake in the end-of-the-day ritual of the Milanese aperitivo with your guide to include a Spritz, Prosecco or the locally loved "Hugo" accompanied by appetizers while getting the inside scoop on the life of the locals, their traditions and customs. A private boat ride along the canals can be added upon request.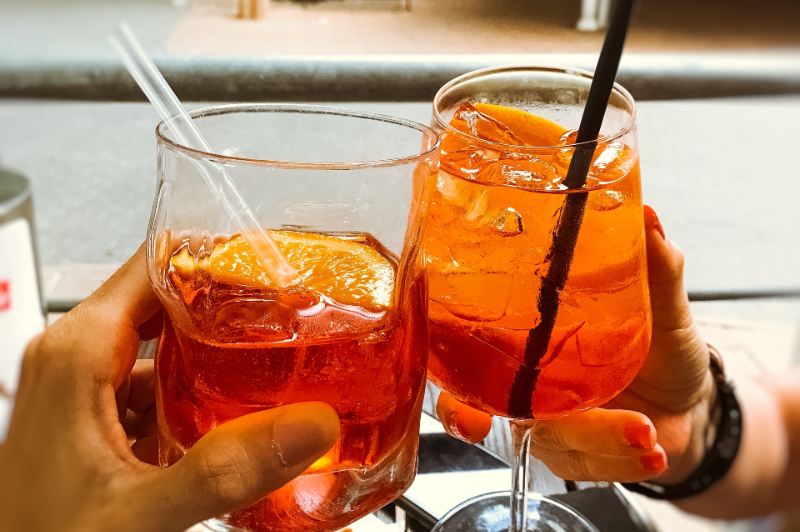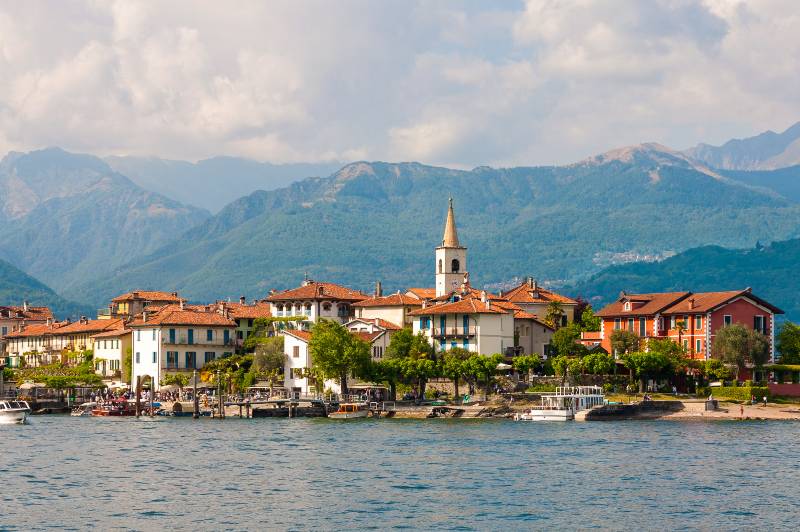 A Day on Lake Maggiore (9 hours)
Lake Maggiore is a magical glacial lake nestled against the mountains and stretching away into Alpine Switzerland. It is here that the famous islands of the Borromeo Gulf including the three Borromean islands of Isola Bella, Isola dei Pescatori, and Isola Madre seem to be painted in one of the most beautiful landscapes of the world.
Isola Bella, with its 17th century Baroque Borromeo Palace is populated with white peacocks and adorned with magnificent fountains, grottoes and sculptures, known as a masterpiece of Italian garden design. The palace houses an impressive painting gallery that may be visited from March to October.
The Isola dei Pescatori, or Fisherman's island, is a picturesque village, inhabited by a small community that still makes its living by fishing. The Isola Madre is a virtual botanical garden on water. Abounding in rare plants and exotic flowers, the favorable microclimate has helped to create an enchanting tropical green house. After the islands tour, the last stop will be at the charming resort town of Stresa. Located just across the waters from the Borromean islands, this international tourist resort attracts visitors from all over the world, with its elegant villas, plush gardens, wonderful restaurants, hotels and stylish boutiques.
A Day on Lake Como (6-7 hours)
Enjoy a day of exploration on Lake Como to discover the highlights of this elegant and stylish resort area that became popular during the 1800's when the local aristocracy designed the villas and gardens that to this day are admired by the world's visitors.
Cruise the lakeside by public ferry, or with your own private boat, and view the luxury palazzo lining the cliffs on your way to the Villa Carlotta or the Villa Balbaniello for a tour of their famous gardens.
Enjoy a stop in the famed town of Bellagio for a walking tour and lunch, then resume your cruise of the Lake with a last stop in the town of Como (time permitting) for a walking tour of its highlights with your local guide.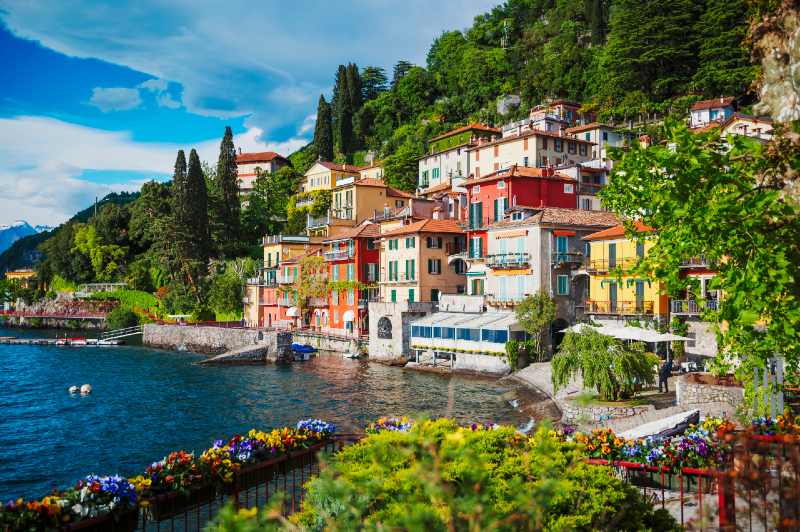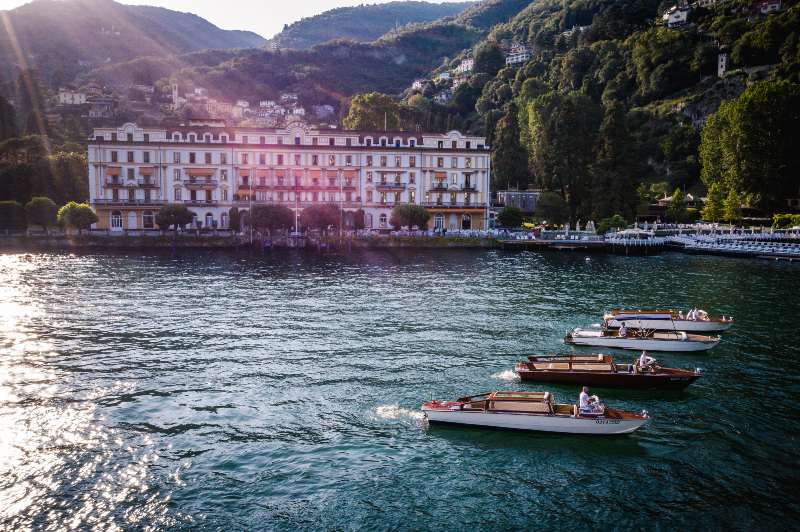 Lake Como Private Boat Cruise
Charter your own private speedboat with captain for a half day or full day of local sightseeing on Lake Como.
Como Private Gastronomic Tour (2-3 hours)
Enjoy an insider's look at the best of Como's gastronomic specialties on this private walking tour with an expert foodie guide. Stroll the vibrant streets of the town while stopping along the way to taste the best Italian specialties like focaccia with toppings, cheeses produced in the local mountains, and olive oil harvested from the trees near the lake. Continue with a tasting of Balsamic vinegar from Modena and visit an enoteca wine bar for an explanation of the sommelier's favorites with tastings, accompanied by local cold cuts like prosciutto, bresaola, salami and mortadella. End the tour with a stop at your guide's favorite gelateria for a scoop of one of their scrumptious flavors!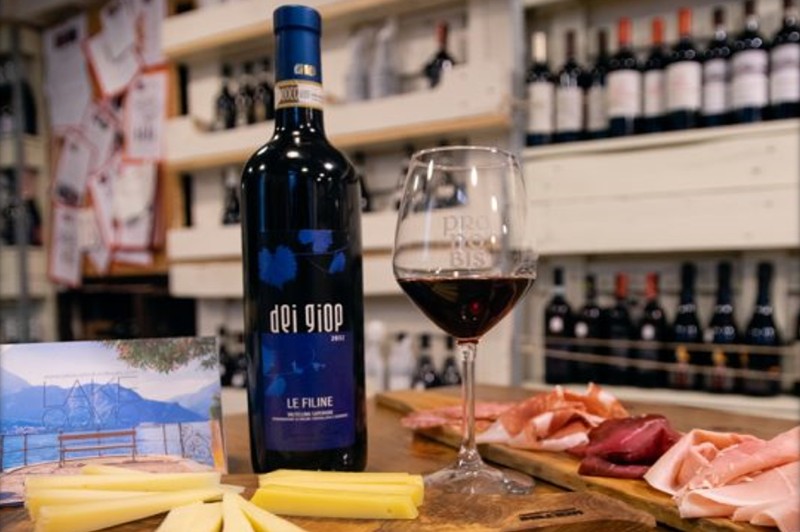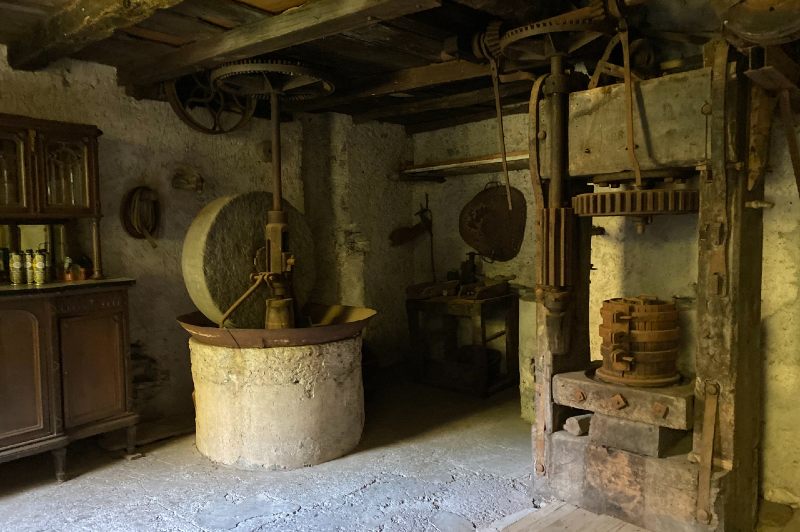 Varenna, Olive Mill and Boat Tour (small group) (7-8 hours)
Enjoy a day filled with a variety of experiences to better appreciate the lesser-known highlights of the central lake, to include an ancient olive oil mill and the town of Varenna.  Start with a walk in the hills across a bubbling brook to visit the ancient mill dating back to 500 A.D. where you will have a guided tasting of the region's extra virgin olive oil, local Valsassina cheese and cold cuts accompanied by wine. Transfer by car to the town of Varenna for a walking tour of its quaint piazza while learning about its Celtic origins. Time for lunch of local specialties with appetizers and a pasta dish, all with a lovely lakeside view. Continue afterwards on a relaxing cruise of the lake to admire the stunning mountains and private villas lining the shores, home to many aristocrats.  Disembark at the romantic 18th century Villa del Balbianello on the western shore of the lake for a guided visit of the property and gardens and see why this beautiful location was chosen as a backdrop to such films as "Casino Royale" and "Star Wars". The last stop is at the Villa Melzi gardens for a walking tour with your guide, followed by a stroll along the shore of the well-known resort town of Bellagio.
Lake Como Smugglers Hiking Trail (5-6 hours)
The hills above Como hide centuries of secrets, and stories abound of the adventures of the early rebels and smugglers who crossed into Switzerland carrying supplies and contraband while stealthily seeking to escape the roaming police patrols. Follow their path with your expert hiking guide and walk along their secret routes, stopping in the rebels hideouts of trenches and fortresses. Your guide will entertain you with stories of their daring adventures while you enjoy unmatched views of the lake from up high. Stop for a mid-tour break and enjoy a "smugglers bag" of local products like freshly baked bread, cheese and cold cuts for lunch. Continue your hike to touch a foot on Switzerland soil before ending the day.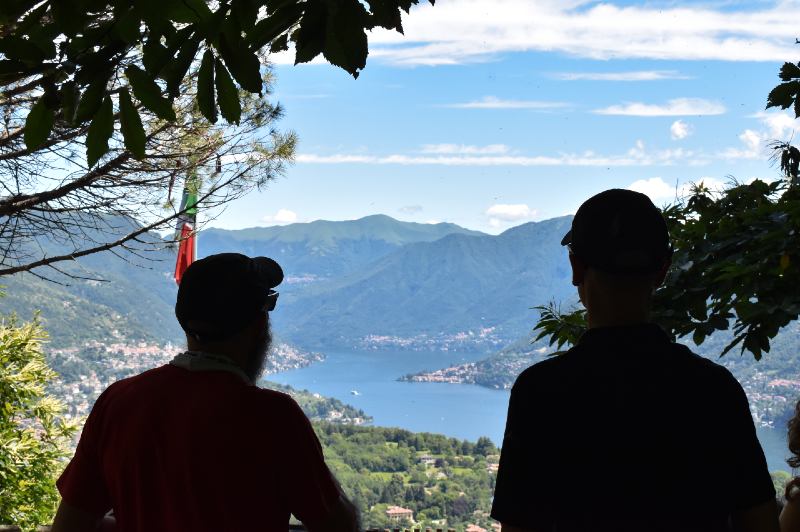 Our areas of specialty include private tours & transfers in Florence, Milan, Rome, Tuscany, Amalfi Coast and Capri, Venice, Portofino, Livorno, Naples, Sorrento, Civitavecchia. We also manage numerous luxury villa rentals in Tuscany and Umbria as well as apartments in Florence.
Please call or email us for a custom itinerary created just for you.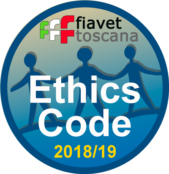 Fiavet Toscana Ethics Code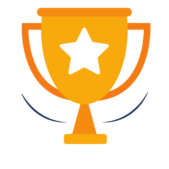 Vatican & Colosseum Accredited Tour Operator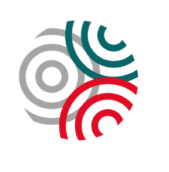 City of Florence Tour Operator