Travel in style in your own private vehicle to your destination in comfort and safety. Most vehicles used for transfers are Mercedes E-class, V-class & 16 seat minibuses. We have sedans for 1-2 guests, compact minivans for 3-5 guests and minivans for 6-7 guests for each of the locations below.  We are happy to suggest fun stops for sightseeing during transfers with further destinations.
Absolute Italy offers a variety of touring options in Sicily to include the most famous archeological sites, fine family-run wineries and olive oil mills, cooking lessons with a Sicilian signora and private palazzo visits. Our expert drivers and guides are available for all of your custom touring needs. We will customize a program based on your itinerary; please write to info@absoluteitaly.it for more information.
Some of our customized tours and shore excursions can include:
Full Day Palermo & Monreale Excursion
Segesta, Erice & the Salt Road
Full Day Mt Etna and Winery Excursion
Full Day Catania & Syracuse Excursion
Agrigento & The Valley of the Temples
On the Footsteps of the Godfather
Taormina & Castelmola
Catania & Syracuse
Modica & Noto
Private Speedboat Cruise of the Cyclops coastline
Luxury Sailboat Cruise with private chef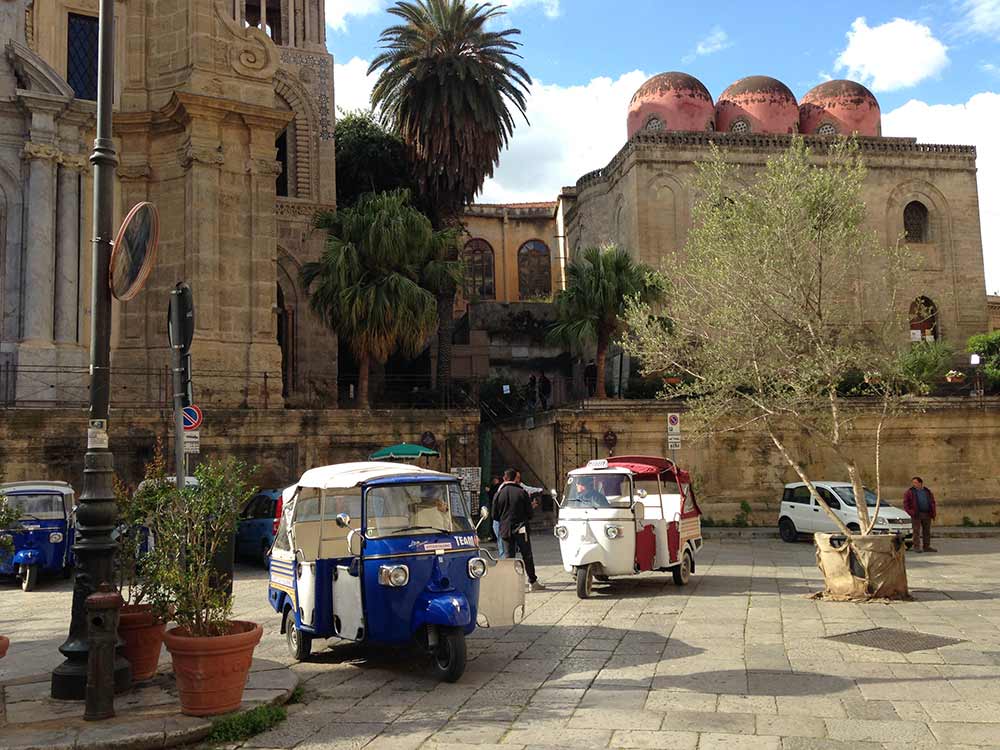 Palermo and Monreale HD Tour (4 hours)
Depart with your driver/guide for a tour of Palermo, the capital of Sicily, with a panoramic tour to encompass the highlights of the ancient center, including its important 12th century cathedral filled with fine works of art, the Politeama square, and enjoy a walking tour of the lively outdoor market where the locals go to do their shopping. Continue by car to Monreale to visit the spectacular cathedral, an architectural masterpiece reflecting Muslim, Byzantine and Romanesque culture, decorated with colorful mosaics. Enjoy free time on your own before returning to Palermo.
Monreale entry fees are included
Visit Segesta, Erice and the Salt Road (7-8 hours)
Depart Palermo with your private driver/guide and proceed towards Segesta, an important Elymian and Greek city of prehistoric origin that extends in a strategic position overlooking a vast territory. The interesting archaeological site is composed by a well-preserved Doric temple, built in 430/420 B.C. and an ancient theatre that stands on the north slopes of Monte Barbaro. After the visit, you will continue to Erice for a walking tour of the delightful medieval city perched on a cliff of 751 meters above the sea level, overlooking the whole Western region, the Mediterranean Sea and the Egadi Islands. Enjoy a break for lunch on your own before driving through the Salt road that runs from Trapani to Marsala to see the scenic salt flats surrounded by windmills that make for an unforgettable panorama. Return afterwards to Palermo.
Entry fees are included.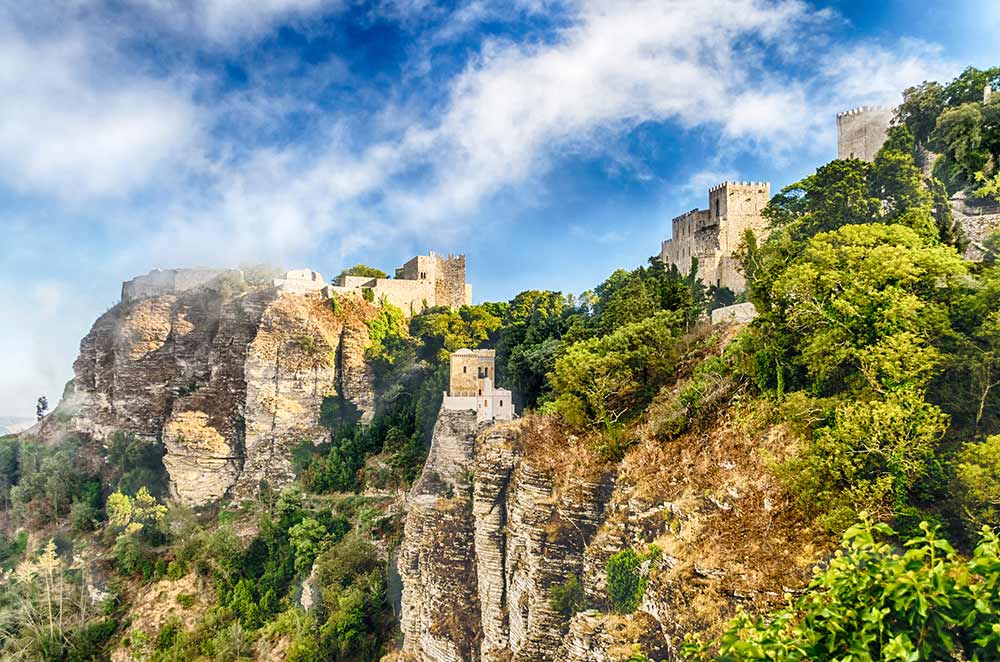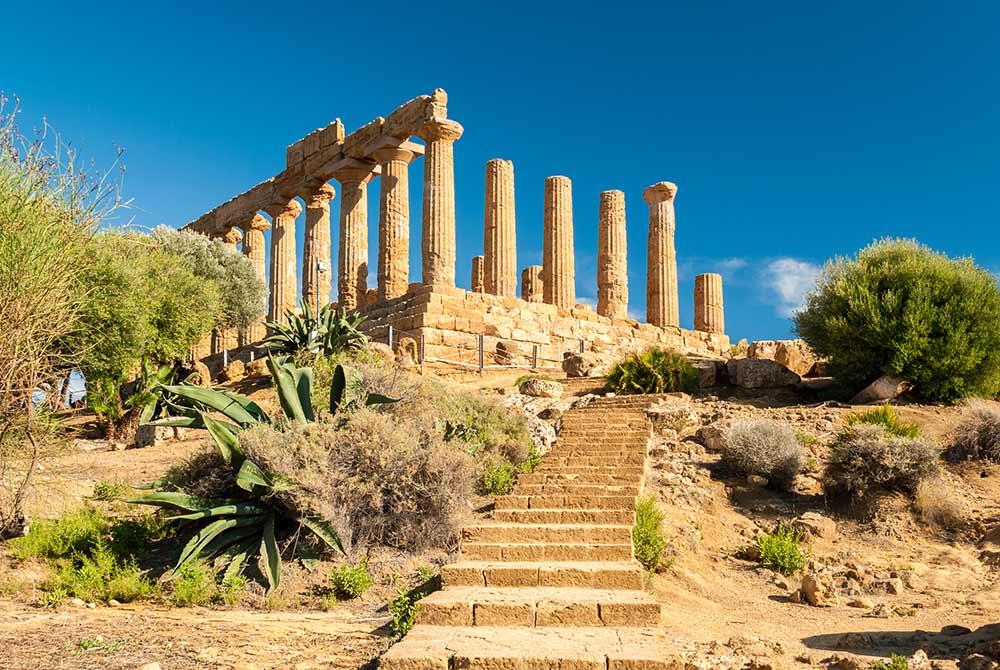 Agrigento and Valley of the Temples Walking Tour (2 hours)
Enjoy a walking tour of Sicily's most important archaeological site with an expert guide to discover the remains of this important center of Greek civilization of the 5th century, that is surrounded by fragrant almond groves and ancient olive trees. Learn about the construction and visit the highlights of the site including the Temple of Juno, a classic example of Greek architecture, located high on a hill with magnificent views of the coastline, and the Temple of Concordia, known as one of the finest examples of a Doric temples in the world.
Entry fees  to be paid directly onsite. Nighttime visits available from July to September *Needed transportation from all locations in Sicily to be quoted separately
Taormina and Castelmola HD Tour (4 hours)
Enjoy a pleasant walking tour in Castelmola, a beautiful and picturesque small village that offers spectacular views over the Giardini-Naxos' bay. You will learn the history and local culture while strolling through its narrow winding streets, and will make a stop at Bar San Giorgio to enjoy a tasting of the local specialty, Almond Wine. Then proceed to Taormina for a tour that will feature a visit to the Greco-Roman theatre where you will be able to admire the remains of the ancient theatre with a view of Mount Etna in the background. Continue with a visit to the Cathedral and end your visit with a stroll on Corso Umberto, the main street and shopping area in Taormina.
Includes entry fees and Almond Wine Tasting.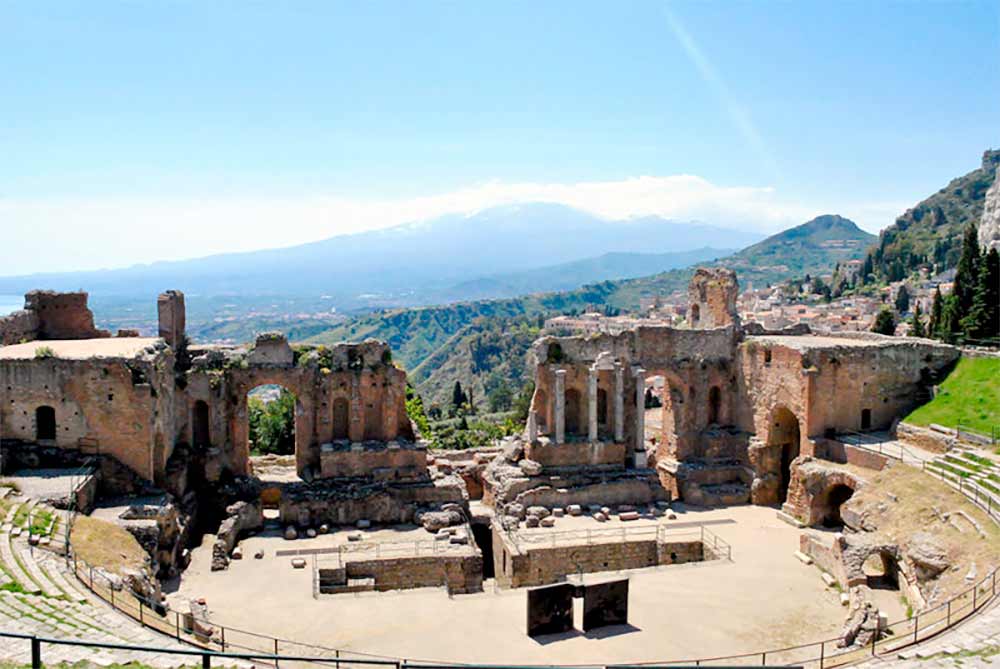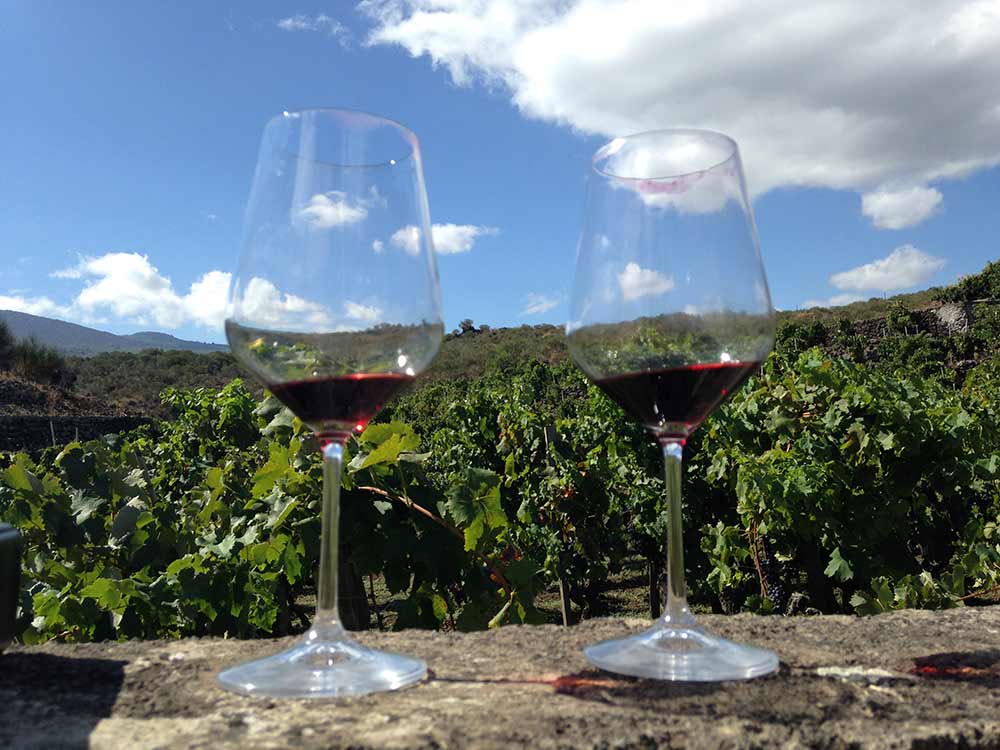 Mount Etna and Sicilian Winery Visit (7 hours)
Depart with your driver/guide for a day of exploration of Mount Etna and environs, travelling into the heart of the countryside past local villages and fertile fields of hazelnuts and vineyards. Journey to the base of Europe's largest active volcano, across roads lined with the remains of black lava from past eruptions, and continue up to the Silvestri crater at 6400 feet above sea level for an incredible view over the Gulf of Catania and surrounding lands. Continue through the countryside to a Sicilian winery that takes advantage of the lava-rich soil and high altitude to produce one of the best wines around. Enjoy a visit of the winery and learn about their winemaking techniques, then have a guided tasting accompanied by locally produced cheeses, salumi and vegetables. Return to your hotel or ship in the afternoon.
Includes wine tasting with appetizers.
Please call or email us for a custom itinerary created just for you
Absolute Italy – Via Maggio 35 50125 Firenze Italy
(39) 055-212877 | info@absoluteitaly.it